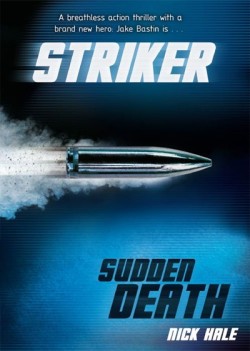 Synopsis: A thrilling combination of top flight football and international espionage. Meet Jake Bastin - talented teenage footballer, son of England's top coach and last line of defence against international terrorism - he is Striker. Jake's dad has been posted to Russia to train Igor Popov's multi-million-pound all-star team. No expense has been spared to lure the best talent in the world to St Petersburg, including American goalscoring sensation Devon Taylor. But people are being killed - a football scout, a journalist and an eco-scientist are all murdered within days of one another. And Jake's dad is always at the scene of the crime...Is the Russian team a front for some terrible conspiracy? Can Jake help stop the killing spree? And could his own father be at the heart of the corruption?
Jake Bastin is one of the best footballers of his age; and with a father who was a famous player when he was younger, you wouldn't be surprised. But when his dad starts to act suspiciously, Jake knows his dad us not all he is made out to be….
Football has never really been my thing- so when I recieved a copy of Striker, a new spy-come-football novel by Nick Hale, I was slightly sceptical. I wasn't too keen on reading it, but I felt guilty for not Reading it when Harper Collins sent me a free copy, so I started  reading it…
In the last decade or so, there has been an onslaught of teen spy novels- from Alex Rider to the Young Bond series, the genre is heavily populated with well selling series. Striker, however, is a bit different. Nick Hale has managed to combine both football and spy, into an easily read novel which most boys will love (sorry girls, this probably won't interest you!). Striker is Hale's debut novel, and, it seems, a series, and while as his debut novel, it is reasonable, there are numerous things that could be improved on.
One of the most notable of these was the main character. It never says what Jake Bastin's age is, but I'm assuming 14 or 15, perhaps even 16. Oddly enough, though, Jake doesn't always seem to be a 15 year-old teenage boy. Most obvious is his seeming lack of interest in girls. I go to an all boys school, and I know how the hormones run in 15 year olds. Boys are forever talking about girls, and yet Jake seems not to be affected by the pandemic of puberty. Another example of this 'un-teenagerism' is his willingness to go to Russia and lack of social life. Surely, as the fantastic footballer he is, he should be very popular? I don't think any 15 year old would want to move so soon after a previous move, particularly when he should be extremely popular.
Jake also seems to be incredibly strong, and never seems to tire in the middle of a punch up. I know Spy novels often have kids that are pretty dangerous with their punches, but I draw the line at a kid who can seemingly take down or knock out professional body guards, when he has had no training in self defence whatsoever! Perhaps we can hope to see slightly more realism in Striker: Close Range (book two), because I certainly found it quite astounding.
Nick Hale's writing style is very similar to that of the CHERUB author Robert Muchamore- simple but effective- which is good for a spy novel. We're not bogged down in descriptions, and it's not sluggish in the action, which is good. The prose won't get an award, but at the same time, it's easy to follow and does the job- which is ideally what is aimed for. Striker: Sudden Death is also filled with several sudden twists. This makes for an interesting story which isn't really predictable. The story itself is a good attempt, and while not excellent is still pretty good. Again, another good job by the author.
All in all, Striker: Sudden Death is a decent debut novel, and while it won't outsell any current popular teen-spy novels, it is still an enjoyable read which many 10-15 year olds will no doubt enjoy. I can only say that I hope the sequel will improve on the already reasonable base.