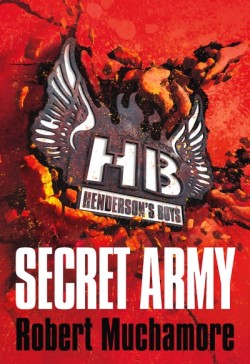 Synopsis: Britain, 1941. The government is building a secret army of intelligence agents to work undercover, gathering information and planning sabotage operations. Henderson's boys are part of that network: kids cut adrift by the war, training for the fight of their lives. They'll have to parachute into unknown territory, travel cross-country and outsmart a bunch of adults in a daredevil exercise. In wartime Britain, anything goes.
Charles Henderson's espionage research facility faces an imminent closure. With an unsympathetic senior officer, there's not a lot he can do. But when Marc rescues the father of an officer who is in high places, a gleam of hope starts to show. Now the team must prove their worth, and it isn't easy.  They are up against trained soldiers, who have many years experience. But then again, who suspects children?
Already on its third episode, Secret Army is the third in the CHERUB prequel series by Robert Muchamore. Now back in England, we see Paul, Rosie, Marc and PT under Charles Henderson's command at the Espionage Research Unit B.
If you've read the previous two novels, you'll be glad to find out that Secret Army is finally set in wartime Britain!
The first twenty to thirty pages introduce us to some new characters (at the time of reading, I felt slightly confused, as I had read Eagle Day a while ago and hadn't realised that we'd not seen Troy and his brother). They weren't terribly exciting, especially after the enjoyment of the previous gritty and realistic books. Once you are past this, you soon get indulged in the life of the kids at Espionage Research Unit B, and it's hard to put Secret Army down.
One thing I found slightly distracting was the dialogue. I felt it was far too modern, and didn't sound like what I expected of wartime England. This seems particularly obvious in the dialogue of the kids, but I think some of the adults had this problem too, and it would have been quite entertaining to make Walker a bit more snobbish and stuck up…
Another criticism I have is about the personalities of Rosie, Marc, PT and Paul. Rosie, in particular, seems a lit like Lauren from CHERUB, and it just feels like Robert Muchamore is re-branding James and co to continue the bestselling series. Humour is quite similar, and personality too. And although they do possess some unique features that were not in CHERUB, it seems that Muchamore just recycled the characters and redressed them. It is obvious that CHERUB and Henderson's Boys are not character driven stories as such; but it would have been nice to see some originality, and now that the plot isn't quite different from CHERUB, it is easier to spot the similarities.
Whereas in The Escape and Eagle Day, there was a plot arc, Secret Army starts returning to the repetitiveness of CHERUB; all the main candidates seem to be assembled, and missions seem to be just around the corner. Hopefully, they won't be quite as similar as CHERUB was and is, but include perhaps longer missions that actually seem relavent rather than just being written to make a book. Even though I've read both of Muchamore's series, I must admit that I have enjoyed Henderson's Boys the same if not more than CHERUB, due to its greater story arc. I just hope that that arc continues, and doesn't fall into the hole that CHERUB fell into.
One thing I would like to praise, though, is Muchamore's direct and realistic style, which is why I think many of us of the male gender enjoy them; they are fast paced, action filled, gritty and not bogged down with description. And, of course, it is undeniable that the mature romantic side also attracts us….
There is no doubt that Muchamore's books are aimed at us boys… And some of you girls may be uninterested and disappointed at the lack of the items mentioned above….but it is still a thrilling read, which I savaged in a day or two (bare in mind I had school then!) , and I fully recommend it to everyone, although boys in particular. There's no doubt you'll live it….