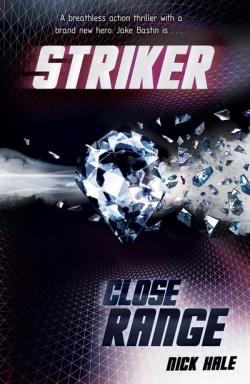 Synopsis: International football meets the world of espionage and counter-terrorism in a nail-biting action thriller! Jake Bastin is in Milan for an international football tournament. His dad will be the TV commentator - but Jake knows this is a front. He is sure his dad's there on MI6 business. If only Jake could get close to the action...Instead he is stuck at a frenzied photo shoot for a priceless South African diamond. In all the chaos, a massive diamond heist takes place. Brutal assassinations quickly follow in retaliation. And Jake finds himself playing centre forward in another high-profile scandal. But this time, it's personal. Hale combines his passion for football, James Bond and writing in "Striker". He lives in London with his dog Pele and continues to play and watch football nearly every weekend.
Travelling with his dad to Milan to watch a series of international football matches, Jake stumbles across Granble, the wealthy Diamond Barron, who is not all he seems to be. Intent on unravelling his secrets, Jake and model Abri get out of their depth while investigating, and Granble is a lot more sinister than they could have imagined…
Stiker: Close Range is the second novel in Nick Hales' young spy series. Having read Striker: Sudden Death, which was a mediocre novel, I was intrigued to see if Close Range could improve on it.
Presumably written primarily for teenage guys, Close Range is a football/spy crossover novel, centred around the escapades of sixteen year old Jake, son of the famous ex-footballer Steve Bastin, now an MI6 employee. Close Range sees Jake travel to Milan with his father to watch a series of football matches. What he doesn't know is that his father is there for a very different reason; namely to bring down Granble; an international diamond fraud.
Reading back over my review of Striker: Sudden Death, I can say that Close Range has certainly increased Jake's sexuality; with the new love interest, Abri, there's a lot more boyishness in Close Range. Naturally, Abri is a seventeen year old supermodel. Hales makes her a pretty flat character; trying to break the reputation for unintelligent, helpless models, he has made Abri not only good looking, but intelligent and surprisingly good at martial arts. Character development is minimal, and virtually none of her motives or emotional story arc are portrayed in Close Range.
The rest of the characters, equally, aren't exactly fantastic; and, to a certain extent, I don't expect them to be, as this is a teenage spy/thriller novel. But a bit more dark motives and betrayal, and hidden agendas, as well as emotional reactions would have been nice. (Also: Abri seems amazing at Karate or something, and yet it never says why a supermodel should need to learn self-defence; and Jake seems strong and intelligent, more so than his father and the rest of MI6.)
The biggest let-down of Close Range is not the lack of character development, though. It's the certain predictability of it all. There's almost no surprise at all when the 'catalyst' events occur; it's painfully obvious to see what's going to happen. The method to 'get' the baddie isn't even original – it's been done so many times.
Just like Striker: Sudden Death, Close Range is Nick Hales' attempt at creating a modern, interesting crossover novel for teen guys. Most guys won't mind the lack of character development, or the predictability of it all, but Close Range seems to be lacking a certain gritty realism that many modern teen-spy series have. Close Range has not stepped up a notch from Sudden Death, and neither has it fallen. It's neither here nor there, and for that reason, it's still a mediocre novel.