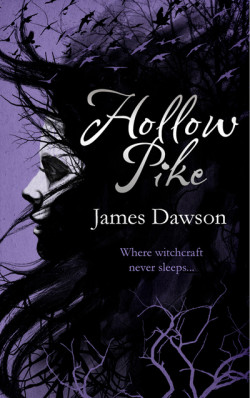 Synopsis: A gripping YA thriller set in Hollow Pike - a small town with a big history of witchcraft!
Lis London is haunted by terrifying dreams at night. She dreams of a wood and a blood filled stream- and she dreams of her death. Every night. She gets little sleep.
Then she moves to Hollow Pike- a small village in rural Yorkshire, and things change. Things start to happen: Lis' best friend-come-worst enemy is the victim of a ritualistic killing. Lis is next- "NOT LONG NOW".
Books shouldn't be judged by their covers, but invariably, they are. Expectations are reached, opinions are formed and a reading plan-of-action is developed.
The evocative and frankly beautiful cover of Hollow Pike had me thinking of a dark, inspired urban fantasy. It oozed originality and quality and inspiration and had a certain secretive feel to it. I'm not sure it fared up to those early expectations. "Not sure," you're thinking, "how can you not be sure of what you think?" Well, dear readers- every so often a book stumps me so badly that I'm left wondering what to write. And, for better or for worse, I'm left pondering it for a long time after, trying to reach a conclusion that I feel is faithful to the novel.
Much of Hollow Pike is spent in domesticity: Lis London, arriving at her new school, Fulton High, is immediately adopted by the popular girls. But, as she soon finds out, 'popular' is just a synonym for 'mean', and when she gets involved in a personal feud between ringleader Laura and a potential Boy- well, there's only room for one and the New Girl certainly won't stay. Not exactly original, by anyone's standards. So what's so special about Hollow Pike?
I was surprised to find that James Dawson would be writing from the perspective of a fifteen year old girl. Surprisingly (or perhaps, unsurprisingly), he seems to be good at it  and manages to portray girls somewhat like it would be expected for them to think. In fact, Dawson is superb at capturing British teenage-hood- though this diminishes somewhat as the characters in question make some rather illogical decisions. One of Hollow Pike's strongest points is the inclusion of LGBT characters- of which there are two, potentially three. Unlike many contemporary writers, Dawson doesn't include them just because "that's the thing to do" but as genuine characters, treating them just like any other heterosexual characters- particularly their relationships.
Dawson is excellent at writing brooding, atmospheric scenes. His descriptions of Lis' haunting dreams are cinematic and spooky, and he manages to inject them with a real taste of fear (and blood…). Most of the time, though, Dawson is demoted to narrating domestic activity, and quite understandably these parts are far less poetic and atmospheric, though they are entirely accessible.
Sadly, there's a turn in the last quarter of the book that changes things completely. After the tense and frightening beginning and middle, Dawson launches into an absurd and comic ending that reminded me more of the black comedy film Hot Fuzz than its atmospheric start. As the revelations flooded in, I was left bewildered and on the point of amusement- things just didn't fit and had me left wondering what this  cheap and clichéd ending was doing on a book that was so promising. There was even time for a laughable villain speech.
The only way to describe Hollow Pike is as a frustrating read. Elements such as the characters and the majority of the novel are excellent, but these are offset by other parts that are downright comical, and a book is only as strong as its weakest part. However, I seem to be in the minority with my opinion and I do suggest you check out some other reviews before you make a decision as to worth Hollow Pike is worth reading or not.