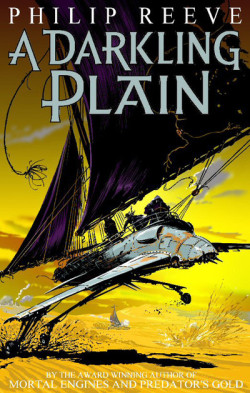 Synopsis:
Extraordinary fiction from a brilliant author... It's six months after the tumultuous events on Brighton, and Wren Natsworthy and her father Tom have taken to the skies in their airship, the Jenny Haniver. Wren is enjoying life as an aviatrix but Tom is troubled by matters of the heart - the last, shocking, encounter with Hester, and the old wound caused by Pennyroyal's bullet. Until a fluke encounter with a familiar face sets him thinking about the ruins of London and the possibility of going back... Meanwhile the fragile truce between the
...show all
It's been six months since the events on Brighton and Cloud 9. Wren and Tom are traveling the Bird Roads, making a living by buying and selling goods. All is quiet- a truce has been formed between the Green Storm and the Traction Cities.  It's a fragile truce, but a truce none the less. Although it doesn't look to be holding for much longer, partcicularly with the goings on in destroyed Lindon and a new Old-Tech weapon even more powerful than MEDUSA….
A Darkling Plain is the fourth, last and perhaps best book of the Mortal Engines Quartet. The series that began with such a beautiful beginning has now ended with an equally beautiful ending, an ending which the book is very worthy of.
When I first read the series, about three years ago, I remembered the beautiful ending: the slightly melancholy tone that radiated from the last pages. Naturally, I was eager to get there, to relive those moments. But I never remembered how good A Darkling Plain was. It's always been my favourite book in the Quartet, as it has been with many people. Reading it once again, though, I notice it has succeeded my expectations.
I think what I live about A Darkling Plain is that it is so humane, so to speak. It is a heavily character driven story. The whole book concentrates on all the different characters, how they act and how they feel. Hester and Tom both feel strongly about each other. Theo and Wren too- then there's Oenone Zero, General Naga, Shrike, who all play very important roles. All of them face internal and external stuggles with themselves and the others around them. It's great how Phillip Reeve has managed to give everyone a different character: even Tom, who was lacking emotion in the first few books now has some new and interesting feelings. Without all the character interactions, A Darkling Plain wouldn't even be half as good as it is.
Wren, who seemed more of a replacement for Tom and Hester in Infernal Devices, is now embedded as a main character and no longer seems such a replacement, which is good. It was interesting to see the world from her eyes, which happened in the form of a few diary entries. I thought this was quite effective and found it quite amusing.
Being the last of a series, A Darkling Plain would need to wrap up nicely. All I can say is, it wraps up wonderfully. The ending is sad, uplifting and superb, all at the same time. You won't be surprised by some of the things that happen, but others will be highly unexpected, things you never thought would happen…it truly is an ending that Mortal Engines deserves.
Of course, A Darkling Plain has all the same elements from previous books: the vivid descriptions, which are incredibly cinematic and perfect for a film adaptation *hint hint*. Phillip Reeve's fabulous imagination and story telling are shown off again. He really has come up with some great ideas for this installment!
This final book also seems to touch some deep themes; for me, A Darkling Plain certainly seemed to question a lot about society, unlike the previous two books. There's a lot about right and wrong, and forgiveness, and even, perhaps, some anti-war themes. And although I picked up on these themes, particularly towards the end, they don't make the book preachy, which could have been a risk.
A Darkling Plain is a great addition and ending to a highly original and fantastic series of novels, which should have a place in everyone's heart. Whatever your age, you are sure to find something that speaks to or enthralls you. A Darkling Plain is a must read for all find entertainment in books. Although, if I were you, I'd start at the beginning of this saga, with Mortal Engines.