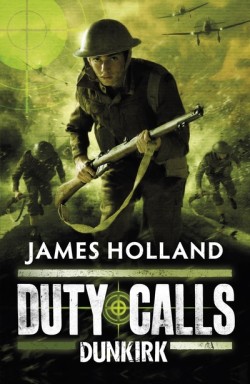 Synopsis: 'YOU WANTED TO SEE SOME ACTION – WELL YOU'RE GOING TO GET IT NOW. YOU'RE GOING TO GET IT NOW ALL RIGHT.' Friday 24th May, 1940 Private Johnny Hawke, aged sixteen, awakens to artillery fire. Hours later, Stukas scream down from the sky. Messerschmit fighters roar towards his regiment. Trucks burst into flames. Now men and mules lay dead and dying, severed limbs twisted grotesquely as blood soaks the cobbled streets. Young Private Hawke just wants to do his duty and serve his country. But as he – and his fellow soldiers – prepare to stop the German advance, there's only one question on everyone's lips. HOW WILL THEY SURVIVE?
Private Johnny Hawke has just arrived in France. The year is 1940 – the middle of the Second World War. Germany has invaded most of France, but French and British forces are attempting to hold them back. It is not easy when both rations and ammunition are in short supply. Aged 16, Hawke has just begun his service. He will be part of the Battalion that will attempt to cover the immediate evacuation of all troops. There is little chance he will survive.
I've never really been "into" war stories; even as a child, I wasn't prone to killing my friends with my pistol shaped hands. It was with little or no knowledge of the structuring of the military that I began reading Duty Calls: Dunkirk, and finishing it, my knowledge hasn't really improved much. James Holland, who's first YA series this is, dives right into the deep end (though he does offer a preface explaining the ranks and such, it was of little use to me…) and talks about Platoons, Battalions and Sargeants. It's great that the author knows what he's doing, but I'm sure I'm not the only one who will be lost among the "formalities" of war. That being said, it's reassuring to know that Duty Calls: Dunkirk is as accurate as possible.
The biggest put off about Duty Calls: Dunkirk is the prose. I consider myself quite a visual reader- that is to say, I like to "play" the events that the story tells me in my head as I read. I found it incredibly hard to do this with Duty Calls. It isn't that the prose is clunky, overly-descriptive (or under, for that matter). It's just written in a way which I found really hard to process into a visual scene, as it were. This style really puts me off; it was a slog to read Duty Calls at first. However, as the novel progressed and the situations the soldiers were facing were getting tense and exciting, I managed to put aside those short comings and really came to enjoy the story, which is really quite exciting.
The action starts from the very first page, though it takes quite a few pages to really get a good feeling for it and feel for the characters, which is to be expected. The close combat of soldier, tank, and gun really capitalises on those nightmares I'm sure everyone had as a child, of waking up one day and finding yourself in the middle of a huge battle and trying to survive. The reality of death is not sugar-coated in Duty Calls, and this is its greatest strength.
James Holland creates a multitude of characters, and I found it relatively difficult to identify and keep up with more than three or four. It must be said though that Holland really manages to pull off the idle chatter between the soldiers, and the comraderie and friendships are really quite convincing. Johnny Hawke and Tom Spears, the sargeant, have an interesting relationship which I thought was an interesting touch.
Duty Calls: Dunkirk isn't without its flaws, but once some of these flaws can be put away, James Holland's debut YA novel can be enjoyed thoroughly. By the end it becomes a good read that is historically accurate in its setting.