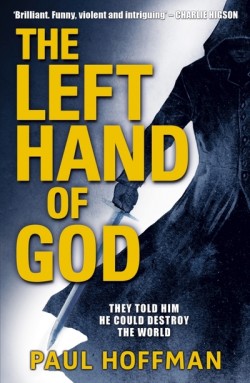 Synopsis: 'Listen. The Sanctuary of the Redeemers is named after a damned lie for there is no redemption that goes on there and less sanctuary.' The Sanctuary of the Redeemers: vast, desolate, hopeless. Where children endure brutal cruelty and violence in the name of the One True Faith. Lost in the Sanctuary's huge maze of corridors is a boy: his age uncertain, his real name unknown. They call him Cale. He is strange and secretive, witty and charming – and violent. But when he opens the wrong door at the wrong time he witnesses an act so horrible he must flee, or die. The Redeemers will go to any lengths to get Cale back. Not because of the secret he has discovered. But because of a more terrifying secret that lies undiscovered in himself.
My feelings for The Left Hand of God changed when I read the sequel – what I had previously misunderstood I know understood. This review, therefore, no longer reflects my feelings about the book, but I have kept it online because this was my first reaction to the book and I think it's important to note that sometimes, as readers, we misread books. I'm glad I was able to rectify this review in my review of The Last Four Things.
Cale is different from the other boys at the sanctuary. They know he is different- he is quiet and secretive, but most of all challenging. He is a cold blooded killer, capable of taking the lives of others without thought, in seconds. Cale is trying to find a way of escaping from the Sanctuary- a place so cold, so horrible that you or I would not survive there. He must escape because he has killed one of the Redeemers- the cruel overlords that dictate over the boys. But he will never get rid of their grip- because he has something they want. Where he goes, they follow. He shall never get away.
One of the best things about being in contact with publishers, among other things, allows me to experience novels that I would never have even thought of reading, let alone enjoy. The Left Hand of God is another of those finds – although in all honesty, it has such a gorgeous cover I probably would have stumbled across it in the book shop!
The Left Hand of God is, ultimately, a retelling of the Battle of Agincourt, along with a bit of Crusades and fantasy. My knowledge of anything to do with history is incredibly sparse, so I cannot say if The Left Hand of God is accurate or not (although researching the story of Agincourt, Paul Hoffman's novel does seem to recount the battle accurately).
That wouldn't bother me if Hoffman didn't try to conceal the fact that The Left Hand of God has anything to do with it, so much so that he bends the entire geography of Europe and North Africa. The Egyptian city of Memphis, where most of the novel takes place, lies 100 miles from the British city of York. In actual fact, I would wager at least 1000 miles, if not hundreds, separate the two cities. Names are changed as well; Henry V and Charles d'Albret are replaced by "Redeemers" and a family by the name of Materazzi. Paul Hoffman seems torn between retelling something historically accurate and writing a full-out fantasy novel, and the outcome isn't as good as it could have been had he chosen between the two.
Once you look beyond the contradictions (Hoffman has decided to replace Jonah from the famous Bible story with Jesus, for whatever reasons) The Left Hand of God is reasonably enjoyable. It certainly had me interested from the start, and I was reading every spare second I had. The story, which starts out as an incredibly bleak tale, turns into something a lot less so, disappointingly (I enjoyed the way Hoffman introduced to us Cale and the Redeemers, one of the better fantasy elements of the novel). The story loses itself three-fourths of the way through and doesn't really recover. Even the climax was disappointing – but incredibly, I still really enjoyed the book.
I have come to the conclusion that it was because of the characters that The Left Hand of God was so enjoyable. Cale is fascinating: a cold-blooded killer who is extremely naive of the world. He is baffled by women, and yet capable enough to kill even the highest soldier. Cale is a fantastic character, and without a doubt I want to see more of him. IdrisPukke, who is a mentor to Cale, is also worth mentioning. I found him hilarious. He is another great creation full of interesting quirks. Hoffman manages to produce another handful of great characters, and above all, they are what makes The Left Hand of God a good read.
In terms of writing style, Paul Hoffman reminds me of C. S. Lewis' writing in The Chronicles of Narnia: the direct, almost story teller approach of speaking to the reader. I haven't read a novel with such a voice in quite a while, and it was interesting to get used to. The old saying of 'showing not telling' is almost reversed here, with the voice of a narrator delivering almost everything, from character emotions to battles. While I wasn't too fussed about it, it didn't do as well describing the climactic battle as it should have done.
Looking back after reading The Left Hand of God, there are obvious flaws; however, the fact of the matter is that I really enjoyed reading it and it kept me hungry for more. For me, that is the bottom line in any book. The Left Hand of God isn't perfect, but it manages to enthrall. If you're looking for a violent, daring novel, The Left Hand of God is certainly worth looking into.