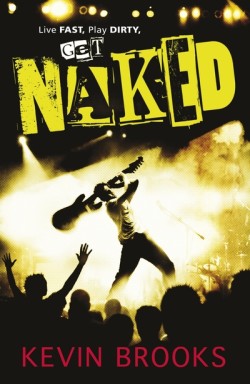 Synopsis: London, 1976: a summer of chaos, punk, love . . . and the boy they called Billy the Kid. It was the summer of so many things. Heat and violence, love and hate, heaven and hell. It was the time I met William Bonney - the boy from Belfast known as Billy the Kid. I've kept William's secrets for a long time, but now things have changed and I have to tell the truth. But I can't begin until I've told you about Curtis Ray. Hip, cool, rebellious Curtis Ray. Without Curtis, there wouldn't be a story to tell. It's the story of our band, of life and death . . . and everything in between. This characteristically gripping novel from award-winning author Kevin Brooks will rock you to the core.
It's 1976 and the punk genre comes into the spotlight in the music scene of London. Amidst them is Naked, a band comprised of sixteen year old Lili and boyfriend Curtis, Stan the drummer, and a Belfast boy named William. Their music is good, they've got their act together, and Curtis hopes to be signing a record deal soon. But things soon start coming in the way, and William is a lot more than he seems to be…
Kevin Brooks' prose comes across with intensity and ferocity, more on par with his previous novel iBoy than many of his other dreamier novels such as Lucas. This time around he's writing from the perspective of a woman reminiscing over her latter teenage years spent during the 1970s with a band called Naked and two boys, Curtis and William. Brooks' prose is almost like watching an old film from the 70s, where the colours have faded, leaving only hints of their former vibrancy. For those of us who never knew the 70s, Naked offers a quick glimpse at a pre-Thatcherite London, caught up in a new revival in music in the form of punk bands.
It would not be surprising if Kevin Brooks were to say that Naked is his most intimate novel so far. It is, after all, set in the same era as his youth, and Brooks himself was a young musician- so much so that he moved to London and attempted to make a career of it. I'm sure Brooks has used his own knowledge and experience to craft not only a 70s London but also revisit the creation of the punk scene- and I have a feeling that Naked is the band Brooks has always wanted to be part of.
Kevin Brooks' novels are always driven by a good story and always have a good set of characters, and Naked is no different. Lili's narrative voice is very authentic, and the way the characters are presented is also frighteningly believable. Brooks manages to perfectly convey the flaws and the strengths in each and everyone of them, and in doing so they become fascinating to read about. Even the ones that are barely given a sideways glance offer a history and mystery in a way that makes Naked a really engrossing and believable read. The relationships that are formed between the various characters only add to this depth, as each is different and presented in its own way.
Naked starts out at a considerable pace in a way that is exciting but still gives time for the characters and the story to come out. Towards the middle, Naked tends to slow down from time to time, though it picks up again and finishes with a good, solid pace. The ending isn't quite as heartfelt or hard hitting as it could (and should) have been. There is little build up of tension for the climax, so Naked ends rather abruptly, which one could say is the nature of the climax. (Were you disappointed? Did it effect your overall reaction to the book?)
Perhaps because of Brooks' first hand experience, there is something special about it- like a long lost memory (which, ironically, is the basis of the book). Naked starts with a bang, introducing us to some fascinating and authentic characters before hurling us into the early-punk scene of the 70s. The musical aspect of the novel shouldn't get in the way of anyone's enjoyment of Naked. I don't consider myself a fan of punk and yet really enjoyed it. As with all of Kevin Brooks' novels, there is a realism and an edginess to Naked, and for anyone looking for a good, gritty novel that doesn't shy away from sex and drugs, Naked is the perfect match.