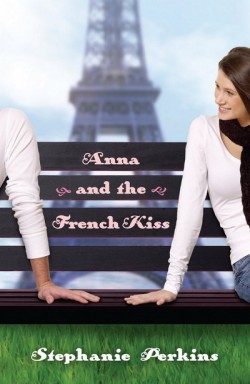 Synopsis: Anna is looking forward to her senior year in Atlanta, where she has a great job, a loyal best friend, and a crush on the verge of becoming more. Which is why she is less than thrilled about being shipped off to boarding school in Paris - until she meets Etienne St. Clair: perfect, Parisian (and English and American, which makes for a swoon-worthy accent), and utterly irresistible. The only problem is that he's taken, and Anna might be, too, if anything comes of her almost-relationship back home. As winter melts into spring, will a year of romantic near - misses end with the French kiss Anna - and readers - have long awaited?
I don't think I've ever before read a book that so little suited both its cover and title. I would never have picked up the soppy picture of a girl sitting in front of the Eiffel Tower, and I never would have considered a book with the words 'french kiss' in the title, but I received about a million jubilant recommendations and having read it, I must concede, every one was right.
This was one of the best books I've read in a long time, as can be told by the fact that I sat down to read it in the morning and refused to get up until I finished. This book is definitely not just 'chick-lit'.
This is the story of Anna, who's parents, despite her most ferment wishes, send her to a boarding school in Paris despite the fact that everyone she knows lives in America and she doesn't speak a word of French. She eventually gets to know a few of her classmates, including Étienne St. Clair. Anna can tell herself over and over again that he has a girlfriend, and he's just a friend, but that won't stop her breath catching and her heart pounding whenever he shares his oh so beautiful smile. As they go through the year St. Clair shows Anna the glories of Paris, and Anna helps St. Clair when something happens that tears his world apart.
This story is a brilliant romance, the situations the couples get into make the readers breath catch; it's full of suspense and you can't help falling in love with St. Clair. At the same time what really makes this book is Anna as a narrator. She speaks so well to the audience and is amazingly funny; she just makes every situation she's in really interesting. There's also her exploration of Paris: I have been to Paris and yet reading this book made me feel like I had been walking around the city with my eyes closed. I really need to go again, knowing now the Paris this book has shown me.
Anna and the French Kiss also works on a level deeper than the surface story. It's definitely got elements of Twilight in it, as it examines relationships, yet the book it reminded me most of was John Green's Looking for Alaska. It's got really important themes in it, specifically the idea of 'home', asking what is it that makes you feel that sense of comfort and belonging. Is 'home' simply a place, or something more than that?
I would really recommend this book to anyone who likes romance, and anyone who likes John Green. Anna is such a compelling character, she'll glue you to the page and make you fall in love along with her. There is no way this book could have been better.