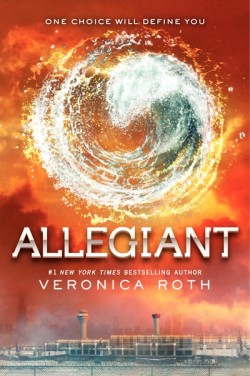 Synopsis: What if your whole world was a lie? The thrillingly dark conclusion to the No. 1 New York Times bestselling DIVERGENT trilogy. What if a single revelation – like a single choice – changed everything? What if love and loyalty made you do things you never expected? The faction-based society that Tris Prior once believed in is shattered – fractured by violence and power struggles and scarred by loss and betrayal. So when offered a chance to explore the world past the limits she's known, Tris is ready. Perhaps beyond the fence, she and Tobias will find a simple new life together, free from complicated lies, tangled loyalties, and painful memories. But Tris's new reality is even more alarming than the one she left behind. Old discoveries are quickly rendered meaningless. Explosive new truths change the hearts of those she loves. And once again, Tris must battle to comprehend the complexities of human nature – and of herself – while facing impossible choices about courage, allegiance, sacrifice and love. Told from a riveting dual perspective, Allegiant, by #1 New York Times best-selling author Veronica Roth, brings the Divergent series to a powerful conclusion while revealing the secrets of the dystopian world that has captivated millions of readers in Divergent and Insurgent.
In the 2 years since Divergent was published, excitement for the series seems to have cooled to a simmer of interest – thanks, largely, to the publication of a mediocre sequel (Insurgent) and a general sense of exhaustion with endless dystopian power struggles (it all gets a little repetitive once you've seen one young girl struggle against the regime). Divergent managed to bypass that – published early on in the wake of the success of the Hunger Games, it gained traction and exposure to an audience that was dying for more. But two years later? We're kinda bored. And so is Allegiant.
Allegiant is probably the chunkiest tome in the series – weighing in at around 500 pages – but paradoxically, doesn't seem to deliver as much content as Divergent. In general, there is a sense of superfluous plot – dull political narrative between the Factionless and the Factions at the start of Allegiant before it really gets under-way. Later, when the excitement starts to build, it still somehow feels underwhelming; there's no great clash of wills amongst the factions (and in fact, most of the story takes place outside the Fence) that we expected, no bloody wars.
Roth tries to take Allegiant into a more character-centric direction. There is a large focus on Tobias' identity and his relationship with his parents – we get to see the vulnerable boy beneath the calm and calculated exterior. Equally, Tobias and Tris go through some of their first arguments – but inevitably, everything seems to be solved when they just can't keep from kissing each other and everything is better. A kiss here, a kiss there, all made up. It didn't feel real. And Evelyn's final choice? Well, that was completely absurd. I can't say much more than that.
Roth made the interesting decision to give us the "bigger picture" – a picture in which Chicago nests. But all she manages to give us is another layer of plot, conspiracy and human rights violations. And in trying to solve the problems both inside and outside of the fence, Roth has managed to write a lukewarm novel that doesn't quite attain spectacle or even enjoyment throughout. Even the highs in the novel don't manage to take my breath…I felt like a casual observer in a struggle that really should have been my own.