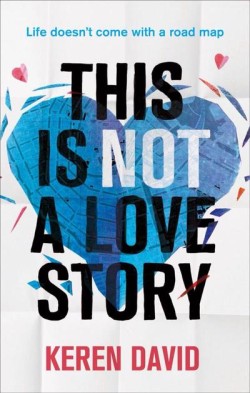 Synopsis: Kitty dreams of a beautiful life, but that's impossible in suburban London where her family is haunted by her father's unexpected death. So when her mum suggests moving to Amsterdam to try a new life, Kitty doesn't take much persuading. Will this be her opportunity to make her life picture perfect? In Amsterdam she meets moody, unpredictable Ethan, and clever, troubled Theo. Two enigmatic boys, who each harbour their own secrets. In a beautiful city and far from home, Kitty finds herself falling in love for the first time. But will love be everything she expected? And will anyone's heart survive?
Except, it is. Keren David's This Is Not a Love Story is not the first to decree that it is not something it is; that line ­was famously pulled by the film (500) Days of Summer and in both cases the stories are both love stories, even if they are not conventional love stories. Told from the rather superfluous perspectives of both Kitty and Theo, two expats making Amsterdam their new home, kitty sees the move as an exciting adventure: an opportunity for a new beginning, away from the open grave of her deceased father's house. Theo, on the other hand, is going to forget his past: his past with an affair with a teacher.
Predictably, their lives intersect, and before long Kitty and Theo are dating, if only casually. And before long, they've also met Ethan; blunt, Dutch, abrasive and bisexual Ethan. For anyone with half a brain, it's easy to work out what'll happen: the story-telling strings are about as subtle as Zwarte Piete, the racist relic of Dutch culture they rally against. As This Is Not a Love Story reaches its denouement, it's a struggle to remain surprised, but David manages to maintain interest with her somewhat unusual love-triangle, Jewish background and an evasively interesting love interest – Ethan.
Given the "three friends" ending, it's odd that David chose to narrate from two perspectives; I can't help but thinking that either three – or just one – would have been far more effective. In any case, This Is Not a Love Story is, to put it bluntly, a rather unremarkable love story: a pleasant read but not particularly noteworthy. But perhaps that's what David was trying to achieve; a story that is as age old as teenagehood. There's something to be said about writing a trope well.