The time has come again for the latest whenever-I-feel-like-it irregular posting of News Roundup where we summarise the latest YA book news (minus the paranormal romance!) This time round we have a couple of extracts from some of next year's big as well as some cover reveals and film adaptation news!
First off, you can read a (relatively large) extract of Dan Wells' latest project- the post-apocalyptic/dystopian Partials which is on sale in February next year. Dan Wells is the author of the fantastic I Am Not A Serial Killer trilogy and he's a name to look out for on the burgeoning YA market. To read the extract, simply "like" the Partials page on Facebook.
Curtis Jobling, who is the author of Wereworld: Rise of the Wolf and Rage of Lions, is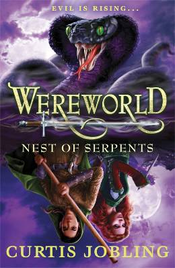 releasing the subsequent two sequels in his Wereworld fantasy series next year, and the second of these, Nest of Serpents (publishing June 2012), has just had its cover unveiled. The blurb is as follows:
WAR HAS GRIPPED THE SEVEN REALMS . . .

Young Werewolf Drew Ferran, rightful king of Westland, has rushed to the aid of the besieged Staglords, whose mountain stronghold is surrounded by the forces of the Werelion, Prince Lucas.

And deep in the haunted Dyrewood forest, the Wereladies Gretchen and Whitley seek sanctuary within the city of Brackenholme. No opposing force has ever breached the palisade walls, but danger could be closer than they think . . .

As Lyssia's greatest war rumbles towards a thunderous climax, the lines between friend and foe are blurred. What if the enemy is one of their own?
Philip Reeve, author of one of my favourite series of all time, Mortal Engines, also has news of his latest project: Goblins, which is a fantasy previously titled "Clovenstone" and aimed at a younger, middle-grade audience, though I'm sure Reeve fans will still love it.
A wild world of magical creatures and heroic adventure from the extraordinary imagination of Philip Reeve. The squabbling goblins who live in the great towers of Clovenstone spend their time fighting and looting. Only clever young Skarper understands that dark magic created by a vanquished sorcerer is rising again. From the lands of men come fortune-seekers – and trolls, giants, cloud-maidens, boglins, swamp monsters, tree-warriors and bloodthirsty goblins are swept into a fabulous magical conflict to thrill all fantasy fans…
Some of you may have heard (or read) Miss Peregrine's Home for Peculiar Children, which
is a great fantasy/mystery novel filled with lots of authentic vintage photographs. 20th Century Fox, who have bought the rights for the film, are looking to bring on board Tim Burton (Alice in Wonderland, The Nightmare Before Christmas, Sweeney Todd)- an exciting prospect if it comes to fruitian. I can see Miss Peregrine's Home becoming an exciting and spooky adventure film.
And finally- the wonderful John Green has posted a video of his reading of the second chapter of The Fault in Our Stars, set to be published early next year. If you've liked any of his previous works (Looking for Alaska, An Abundance of Katherines, Paper Towns) it looks like you'll enjoy this novel as it has the same hilarious humour as well as profound moments. If you don't want to watch the video of John Green reading the chapter, you can read the first two chapters instead.