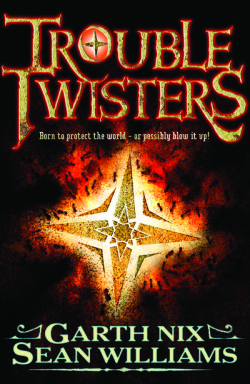 Synopsis: Twin siblings Jack and Jaide discover they are pivotal to a secret supernatural organisation that protects the earth from marauding Evil! Portland might seem like a quiet coastal town, and their grandmother is perhaps no dottier than anyone else's, but it soon becomes apparent that the strange things going on around them are anything BUT ordinary. It's all very well discovering that you suddenly have magical powers, but when you don't know exactly what they are, or how to use them, then facing impending peril doesn't seem like a very good idea at all...
Jack and Jaide are wrenched from their lives when they are moved from their city-life to a small house in the seemingly quiet town of Portland, where their mysterious Grandma X lives. After arriving at the peculiar house, odd things seem to happen, and the twins are confused whether their grandma is working against them or with them against the terrifying Evil…
Garth Nix's latest venture, together with Sean Williams, offers a very different result from his previous novels. Unlike many of Nix's novels, Troubletwisters is consciously written for the pre-teen market, with divided results. While I can see the appeal for 9-12 year olds, the writing style and the basic plot do nothing to improve the reading for anyone who is above this age bracket – I found my self straying from the page whilst reading Troubletwisters, in the first half particularly.
Troubletwisters has the same fantastical peculiarity that all of Nix's novels have (having never read a novel by Sean Williams, I cannot comment on any writing similarities between Troubletwisters and his solo writing), which I'm sure many fans will love. In fact, the first half of the novel is filled with wonderful oddities and a lingering suspicion for Grandma X, making for an intriguing start. But sadly, it doesn't quite pick up speed quick enough, and we're left bumbling on until the (predictable) revelation occurs and the real action can begin.
As is to be expected from a children's novel, the characters are neither particularly complex nor battling with their inner darkness. There is a definite black-and-white distinction except for Grandma X early in the novel, though that is due to the fact that the twins don't quite know who she is. However, the twin's battle with temptation, and to a small extent themselves, deepen the characters..
Having read mixed reviews of Troubletwisters, I think it can be concluded that for those looking for an (extremely) light read that has the 'Garth Nix Factor', Troubletwisters is a good match. But don't make the mistake of thinking this is any more than a children's novel; this is not one of those books that can be enjoyed by children and adults alike. The ending is a bit abrupt, but maybe that works for readers.