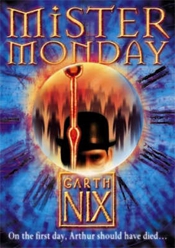 Synopsis: Breathtaking new magical adventure series from the author of Sabriel. Seven days. Seven keys. Seven virtues. Seven sins. One mysterious house is the doorway to a very mysterious world -- where one boy is about to venture and unlock a number of fantastical secrets. Arthur Penhaligon is not supposed to be a hero. He is supposed to die an early death. But then his life is saved by a key shaped like the minute hand of a clock. Arthur is safe -- but his world is not. Along with the key comes a plague brought by bizarre creatures from another realm. A stranger named Mister Monday, his avenging messengers with bloodstained wings, and an army of dog-faced Fetchers will stop at nothing to get the key back -- even if it means destroying Arthur and everything around him. Desperate, Arthur escapes to the mysterious house that has appeared in town -- a house that only he can see. Maybe there he can unravel the secrets of the key -- and discover his true fate.
Arthur Penhaligon has been unknowingly chosen as the Heir to the Kingdom. He must undo Millennia of meddling that has occurred in the Second Realms ever since the Architect left- and it seems not many are on his side. Infact, only three others are; the first part if the Will of the Architect; Suzy, a young girl; and another. But can he be trusted? He has served with the enemy for many a year, but where does his true allegiance lie? With ever growing pressure, can Arthur manage the task he has been endowed with?
Mister Monday is the first in Garth Nix's Keys to the Kingdom series, and it certainly makes for a thrilling and magical read. Garth Nix continues captivate us with his breathtaking imagination and story-creation skills.
When you first start reading Mister Monday, I, most definitely, was intrigued about the concepts that Nix has described in the prologue. The mystic of it all seems to want to make you read further, and discover what it is all about.
Sadly, Chapter One does not seem to follow the mysticality of the prologue; it introduces us into our main character, Arthur Penhaligon, and the asthmatic problems he is plagued by. It is a rather weak attempt at introducing us into the life of Arthur, and after the high intensity of the prologue, I didn't really want to know about this 14 year old.
The following chapters are similarly bland: not much happens that builds our knowledge of this mysterious Will mentioned, and we are left with the mediocre story of Arthur's escapades in his new school.
That is, until about 100 pages in, when everything changes. This is what Garth Nix does best; creating odd fantasy realms that are detailed in every way. The mysteria of the prologue thickens, and this is where enjoyment starts; the ingenuity of the House and all that is inside shines through, and the imagination is truly astounding. Nix's ideas are quite amazing, and it is a pleasure to discover how this fantasy world works. I'd also like to praise the way Garth Nix has made the concept entirely feasible; the way the House and our world (the Secondary Realms) intertwine is believable, and for that, The Keys to the Kingdom is perhaps the best book in combining fantasy with reality.
Sadly, that cannot be said about the characters; I failed to establish a bond with Arthur early on; he seems quite two dimensional at the start (this does improve towards the end, though), and the dialogue seems unrealistic and forced. There also seems to be a lack of expression of emotions in Arthur, and when they are shown they are vague at best. Other characters, too, seem a bit flat. Mister Monday seems to be a normal villain; no ingenuity seems to be spent developing him. My favourite character is probably Suzy, and although she is far from perfect, I connected far better with her than Arthur.
Arthur's asthma seems to me to be thrown in rather hurriedly, as if Nix was intent on giving him a weakness. It doesn't really add a lot to the main story arc, and the only thing it seems to be there for is to have a viable way of making Arthur the main character. Arthur's will to find a cure for the Sleepy Plague seems also to be half-hearted; we don't see it a lot, and when we do, it doesn't feel natural or believable.
It's a shame Nix didn't invest as much time making the characters and the dialogue three dimensional as he did with the concept of the series. Had he spent more time, Mister Monday truly would have been a great book. But what I love about Mister Monday is the dark, secret and mysterious plot and opening. Garth Nix has created a strong conceptual foundation for the seven part series, and I think character development will only go uphill from here. So, although there are a few negatives, it is, all in all, a great read, that incorporates a fast-paced plot, a sinister concept and some clever ideas.