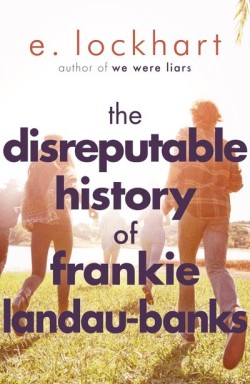 The Disreputable History of Frankie Landau-Banks
Synopsis: "As a girl, Frankie knows she is supposed to play by the rules, but the rules were made by Old Boys for boys and therefore are not her rules to begin with." - THE NEW YORK TIMES So Frankie Landau-Banks decides to take matters into her own hands, outsmarting the secret all-male society at her rich kid boarding school by tricking the members, including her own boyfriend, into believing her increasingly outrageous commands are their leader's. Undaunted by her male peers, Frankie contests the old-fashioned idea that it's the boys who rule the school proving that girls are not to be dismissed - even by her own father, a former member of the all-male society himself!
As in We Were Liars, Lockhart seems preoccupied with rich ruling America. This time through the eyes of Frankie Landau-Banks; sophomore-to-be at one of America's finest private schools. Consistently underestimated by her family, friends and boyfriend, and fed up of being adorable, cute and ignored, she stumbles across a brilliant way to prove that she's cleverer than any of them: hijack the secret society that operates, rather unsuccessfully, under the leadership of her boyfriend and his elusive buddy, Alpha.
Frankie is an unusual protagonist. She will rile some readers; she has riled some readers. But I love her. I love her because she is unashamedly herself – with all the paradoxes and oxymorons of being human. She loves Matthew Livingstone; she hates his male privilege, the privilege of his secret society. It is in this tug of war that she really comes alive; her inner hypocrisy reflects our own conflicts. Her character is all the more fascinating for it; she's ambitious, smart, strategic, ruthless, yes; she's also a sensitive and you could probably argue that she has some self-esteem issues. She isn't the action heroine and she isn't the damsel in distress; like all of us, she's a bit of both.
Startlingly, The Disreputable History of Frankie Landau-Banks is presented in third person omniscient narration; somewhat of a rarity in an age in which almost everything, from dystopian thriller to contemporary romance, cannot escape the grasp of first-person storytelling. Lockhart's decision to narrate this way evocates all sorts of things; from children's and YA classics from the 1900s to Wes Anderson's brilliant film making style. It's a fourth-wall-breaker, consciously addressing the reader in its own whimsical way. Crucially, it avoids the distance between reader and character that is so often fostered by the third person.
2014's publication of We Were Liars put E.Lockhart on the map, but it's The Disreputable History of Frankie Landau-Banks, published from her US back catalogue, that firmly cements her as a brilliant writer; it's a superlative novel about female ambition, brilliantly narrated and discerningly presented.