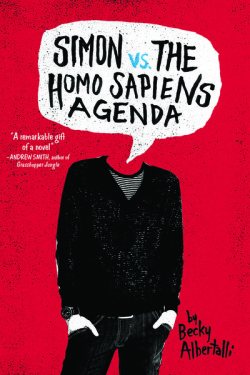 Simon vs the Homo Sapiens Agenda
Synopsis: Sixteen-year-old and not-so-openly gay Simon Spier prefers to save his drama for the school musical. But when an email falls into the wrong hands, his secret is at risk of being thrust into the spotlight. And worse still, so will the privacy of 'Blue', the pen name of the boy he's been emailing. With messy dynamics emerging in Simon's once tight-knit group of friends, and his email correspondence with Blue growing more flirtatious every day, Simon's life suddenly becomes just a little complicated. Now Simon has to find a way to step out of his comfort zone before he's pushed out - without alienating his friends, compromising himself, or fumbling a shot at happiness with the most confusing, adorable guy he's never met.
How to describe this book, which took me on a whirlwind tour of my own experiences as a gay teenager coming out and falling in love? It's hard. I cannot put into words how honest and authentic Simon vs the Homo Sapiens Agenda is; at times it felt like I was reading my own story – an 'online first' relationship that is so common amongst gay teenagers (you try finding someone to date if you're not out yet/don't know anyone in your immediate group of friends!) In the few hours it took me to read as I sped across Germany with my train connections, I was struck by how deeply personal Simon's story is to me and surely to many others too.
See, Simon likes boys; and whilst nobody knows yet, he's already fallen in love with a mysterious classmate he met anonymously via the school gossip rag online: Blue. On one level, the two boys barely know each other: what they look like, where they live, who their friends are, when their birthday is. Yet they understand each other to the core of their being: in long, late night emails they spill their souls across the pixels of their screens and wait nervously for a response, an affirmation that there is someone else like them.
It's Albertalli's ability to empathise with two gay teenage boys that really make Simon vs the Homo Sapiens Agenda a warm and glowing read; her gentle way of presenting Simon's thoughts and feelings as he falls for his mysterious friend. It's a tender treatment that is even stronger for its ability to sustain the mystery of Blue's real identity until the very end. So perhaps Simon vs the Homo Sapiens Agenda is best described as a romantic, gay whodunnit: hopeful and warm and honest and true, and guaranteed to have you swooning at its sheer sweetness.