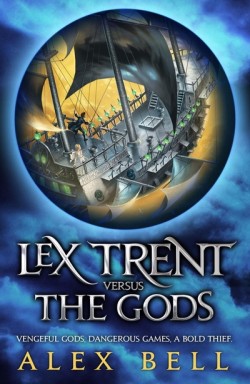 Synopsis:
A quirky and original comic fantasy from talented Gollancz author Alex Bell Law student Lex Trent's world is inhabited by fearsome magicians, ageing crones and a menagerie of Gods and Goddesses. And while Lex is seemingly dedicated to his legal studies he's always enjoyed a challenge -- which is why he leads a double life as the notorious cat burglar 'The Shadowman' who has been (luckily) evading capture for years. But Lex's luck is about to run out because the Goddess of Fortune has selected him to be her player in the highly dangerous Game
...show all
Lex Trent is a master cheat, thief and lier. He was born lucky. But this time he isn't so lucky. Lex Trent has been chosen to take part in the Games; where six humans are the chess pieces of three Gods, battling against each other. And Lex has just gotten himself the worst partner out there. Schmidt: an honest, ageing old man who knows Lex for who he really is; a ruthless scounderel who plays to win, no matter what it takes.
Fans of Terry Pratchett look out! This is the first YA novel by Alex Bell, and it certainly is a good one. It seems as if Bell has been writing for a long long time. This is the first novel I've ever read that was comic fantasy, and it has certainly left an impression on me, and inspired me to perhaps delve into Terry Pratchetts Discworld…
Lex Trent Versus the Gods is very entertaining to read. There are two or three moments that are hilariously funny and entertaining, I'm suprised this is Alex Bell's first YA novel; Bell certainly seems very capable of writing  a fast paced action adventure. And Lex Trent Versus the Gods really is full of action. After the prologue, you're immersed in an adventure that is extremely hard to put down.
But I think what really makes this novel work are the characters. The main character, Lex Trent, is quite different from most novels; he isn't the cuddly hero that everyone loves, and yet you still feel a deep connection to him.  Lex Trent alone is entertaining, witty and thrilling to read about, but add Schmidt, and it just increases by ten levels. The rivalry between these utterly opposite characters is the jewel of the book, and also the magic ingredient that makes this book comic fantasy, rather than just fantasy. In that respective, both the main characters are certainly not archetypes.
There are, however, still some minor flaws. The prologue for example; this is the weakest writing throughout the book. It tells us the backstory of the world Lex Trent lives in (quite an imaginative one I might add…), in an uninteresting way. Once you get into chapter one though, it is soon forgotten.
I also seemed to spot some mild inconsistencies, which in themselves aren't important to the plot a lot, but just bugged me. One was the fact that he killed a medusa with a mirror, and yet when he saw their reflection Lex didn't die. Perhaps I missed something…
I wasn't a fan of the ending, either. The transformation seems a bit swift and sudden at first, although the last couple if pages do show us what happened, and perhaps it isn't as swift as is made out just before the last page or so.
All in all, this is a very entertaining read, as as Alex Bell's first YA novel, very impressive. Her style is thrilling to read, and quite easy going. Pratchett fans will love it, and so will hardcore fantasy fans too; even I finished it within a few days, and I never have been a particular fan of comic fantasy before.