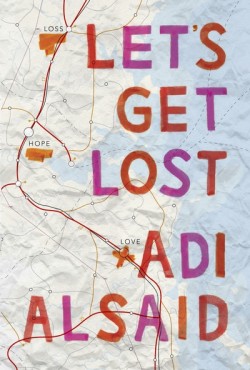 Synopsis: One girl could change four lives forever… Mysterious Leila, who is on the road trip of a lifetime, has a habit of crashing into people's worlds at the moment they need someone the most. There's Hudson, who is willing to throw away his dreams for love. AndBree, a runaway who seizes every Tuesday—and a few stolen goods along the way.Elliot who believes in happy endings…until his own goes off-script.And Sonia who worries that she's lost her ability to love. Hudson, Bree, Elliot and Sonia find a friend in Leila. But Leila's trip could help her discover something bigger — that sometimes, the only way to find what you're looking for is to get lost along the way…
Road trip stories are nothing new; from Kerouac's On The Road to John Green's Paper Towns, the sub-genre (if it can be called that) is frequently used, overused and abused. However, that didn't stop me having high hopes for Adi Alsaid's Let's Get Lost which is getting a rather generous publicity campaign from its publishers, who probably think they've landed the next John Green.
Rather unexpectedly (I don't pay great attention to provided synopses…), Let's Get Lost presents a panorama of teenage life in America. As Leila makes her way closer and closer to Canada (to see the Northern Lights, she frequently reminds us), she finds herself bumping into a variety of characters from all walks of life. It's all a bit serendipitous – at times on the edges of disbelief – particularly as Leila manages to change the lives of the people she meets for the better, in one case playing the psychologist to Hudson who is applying to become a doctor but in his heart of hearts wants to become a mechanic, and in another helping runaway girl Bree reconnect with her long-lost sister in lieu of their parents' death. It's all a bit easy and clean; each story is nicely packaged and comes to a happy (yet unsatisfying) end.
Whilst it is Leila's character that undertakes the road trip, and is thus the connecting dots between all the stories, Alsaid fails to create compelling characterisation. Attempting to leave her mysterious, and clearly struggling with her own issues, Leila never really becomes a sympathetic character and sports more than a few shades of the dreaded Manic Pixie Dream Girl syndrome. Her revelation is too little too late, failing to provide the story with the traction it needs to get off the ground. There's just too little detail about her to stir any sort of emotion beyond complacent apathy – I wonder if her revelation would have done better at the beginning of the novel, rather than being hammed in at the end.
Let's Get Lost has few redeeming qualities. Even Alsaid's prose is patchy at best, and his use of metaphors and similes is odd, ranging from the interesting to the downright bizarre. Several times I was left wondering if his choice of description was really appropriate. Sadly, it feels like Let's Get Lost just doesn't carve itself out as a book worth reading, and with so many other, better coming of age novels around, there is little incentive to take it off the shelf.