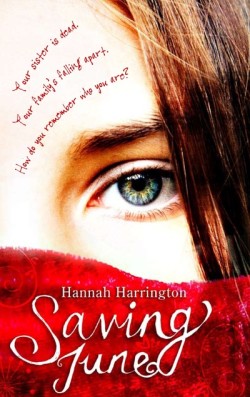 Synopsis: Your sister is dead. Nineteen songs can tell you why. Only one boy can help you understand. Harper Scott s older sister, June, took her own life a week before high school graduation, leaving Harper devastated. So when her divorcing parents decide to split up June s ashes, Harper steals the urn and takes off cross-country with her best friend, Laney, to the one place June always dreamed of going California. Enter Jake Tolan, a boy with a bad attitude, a classic-rock obsession...and an unknown connection to June. When he insists on joining them, Harper s just desperate enough to let him. With his alternately charming and infuriating demeanour and his belief that music can see you through anything, he might be exactly what Harper needs. Except...Jake s keeping a secret that has the power to turn her life upside down again.
June's suicide was a surprise to everybody – most of all her family, who she left in a chaotic state, grieving for their eldest daughter and older sister. Confused, angry, hurt. Broken. Harper doesn't know what to do- until she remembers June's dream of taking off to California. Perhaps her only hope, Haper attempts to make peace with her lost sister by going on a road-trip with her friend Laney and Jacob, a guy she's only just met and whose connection to June she doesn't quite understand.
A road-trip is a common literary device for a reason: they're fun, exciting, care-free and allow the exploration of your protagonist's emotions. In the case of Saving June, it's the exploration of grief through the eyes of sixteen-year-old Harper in the weeks after her sister's suicide. Lots of young adult novels explore the suicidal teen: few follow those who are left behind (the popular Perks of Being a Wallflower being another- though it plays a lot smaller role than Harper's loss does in Saving June).
Hannah Harrington also explores her characters' thoughts and feelings through the use of music, which plays a major role in Saving June. As a fellow music lover myself (though of different genres, mostly), I was delighted by the countless references, mostly for bands I have not heard of/do not generally listen to. Harrington does a good job of conveying what the music meant for her characters, and thankfully, a full playlist is included as part of the acknowledgements. It's for novels like this where I think that interactive books would really work well; with a soundtrack of the song happens to be "playing" on the page.
As Harper narrates, "it's complicated- like everything else", and nothing describes the characters better and the relationships they have. Harper is sardonic at times and grief-stricken in others; Laney headstrong and jealous, Jacob is an enigma confused and tender yet also satisfyingly mysterious in a way that isn't just lacking in information but as if he's genuinely holding something back. The only time Harrington strays into the world of clichés is in her descriptions of Jacob- his green eyes and messy hair that is somehow, somehow, still sexy. I envy him. Of course, there's also plenty of angst to go around- and anyone to complain that there is "too much angst" in Saving June has clearly never been a teenager themselves.
Even the most firm of friendships goes through cycles of anger and misunderstanding- like any real-life friendship- just as the romantic interest takes its time to come to fruition. It's hard to love someone when you've only known them for a few weeks, says Harper- a comforting thought for those who are fed up of insta-love and a good point for any author who has a knack of insta-loving their characters. The trio – Harper, Laney and Jacob- are all sympathetic characters, though rarely at the same time. There's tension, disappointment, affection and irking amongst them- Harrington is superb at capturing relationships, with all their intricacies and complications that make them truly human.
Harrington should be praised for her excellent descriptions of grief, her portrayal of human relationships and teenage moods: her characters are jovial one moment and stuck in a steep valley of despair the next, a situation I am sure anyone who was ever a teenager can relate to. Filled with a wide variety of music references from Miles Davis to modern hip-hop, Saving June is a trip to experience, touching on both the profound, the emotional and the surreal.