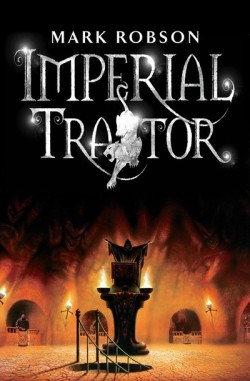 Synopsis: When Emperor Surabar is assassinated, Shalidar makes plans to put Lord Tremarle on the throne, in return for being appointed his heir. The remaining lords have other plans, however, and the city descends into anarchy. Femke and Reynik go into hiding with the Emperor designate, Lord Kempten. But for Kempten to take over, he must destroy the master stone - a stone which is kept in the heavily-guarded palace. As gladiators face up to assassins, can Femke come up with a plan to get them into the palace - and return peace to the city?
With the Emperor Surabar having been assassinated, Shalidar makes plans to place himself on the throne. The Emperor's death hasn't put the two spies off, though. Femke and Reynik are more determined than ever to destroy the guild one and for all. The plans are all coming together, but they aren't without consequences….
Imperial Traitor is the third and final novel in the Imperial Trilogy, a fantasy-come-spy set of books that are slightly different from your standard fantasy story. Imperial Traitor is probably the best of the three, combining lots of action with many surprises, making it a very exciting story.
I've always been interested in detective/spy stories; from a young age I watched Miss Marple  (a detective series) with my parents. The Imperial Trilogy, however, put a unique spin on the spy genre, combining it with the rather bloated high fantasy genre. The outcome is a pretty decent read; not something to be missed by the fantasy lover. The fantastic thing about merging these popular genres is that Imperial Traitor is effectively a really fast, action packed fantasy that keeps you on your edge all the time; I was forever trying to predict what was going to happen with the new knowledge the characters had gleaned, only to find my predictions pitifully wrong! It was enjoyable though, and just goes to show that Imperial Traitor is hardly predictable.
Sadly, it didn't do as well on the character front. The actual characters themselves are fine -even good, I would say- but it's the way they express themselves. The speech is, sadly, quite poor at times; it's stiff and unrealistic, and not at all how I would imagine the characters would communicate. Normally it isn't too bad, but it some cases it was quite noticeable. It's a great shame, as this could have been a fantastic end to the series. As it is, it's good, but not as great as it could have been.
Another minor problem I had with the characters was the relationship between Reynik and Femke. The way Mark Robson has expressed the romance is again quite stiff and somehow unrealistic. I have no quarrel with there being a romance between them- so long as it is pulled of well, which it isn't. Again, this minor detail pulls the whole book down a notch.
The plot, however, is a completely different matter. The story is fantastic. It's a solid and powerful tale, and it doesn't let down. It seems that each book in the Trilogy is better than it's predecessor in terms of plot! That's quite a remarkable achievement to have it keep rising. Top marks to Mark Robson on that front.
As a whole, Imperial Traitor is an entertaining read, and whilst it isn't without its flaws, it is still a great way to end the series. Anyone who has read the first two books, I'm sure will love it, and anyone that hasn't but loves fantasy I recommend starting with book one (Imperial Spy).