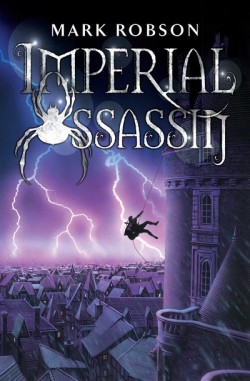 Synopsis: Declared outlaws by the Emperor, the Guild of Assassins strikes back hard. The Emperor must act fast. He needs someone to infiltrate the Guild. All attempts to locate the assassins' headquarters have failed and Femke is already known to the assassins. So Reynik, the young legionnaire, must penetrate their inner circle to discover the Guild's secrets. But secrets kept hidden for over five centuries command a high price is Reynik is ready to risk his life for the mission?
Emperor Surabar has been disliked by the aristocracy for a while now; his ideas have not corroborated with those who seek only for themselves. But now his most controversial order has been passed; the out-lawing of the Guild of Assassins, but they are not going to give up without a fight. It is now up to Femke and Reynik to find out more about these assassins, and it will not be easy….
There's always been something immensely thrilling when reading a spy novel. They're full of action, fast paced, and often have plots that twist and turn all the time. Well, Imperial Assassin combines this with high fantasy- a strong mix that utilises the best of both worlds. Fans of fantasy will no doubt feel satisfied after this strong read, and the added detective face makes Imperial Assassin stand out from most fantasy books.
Imperial Assassin plays with the notion of morality and what one must do to keep things right- but not in a preachy way. In fact, it merges very well with the story in a way which is noticeable but not glaringly obvious. Neither is the book written for the theme, but the theme  gently incorporated into the plot line, as is often better as a reader.
All this would make Imperial Assassin a great read, if it weren't for a couple if points that held this book back. Indeed; there are a few points that quite disrupt the flow of reading, which is quite a shame, really, considering that the plot and characters have such potential.
One of these points is a criticisms of Mark Robson's writing style. While reading Imperial Assassin, the prose seemed at times quite disjointed and raw; as if unedited. Throughout the book, there is also plenty of unnecessary description, description which does not benefit the pace or story in any way, and along with the choppy and rambled prose, just helps to bring the story to a sluggish pace where otherwise a speedy style would have benefited the story as a whole and made the whole experience far more enjoyable and thrilling.
Another negative aspect if the book is the multitude of characters; having read Imperial Spy (book one) about six months ago, I was not familiar with them and first had to study the character index which is supplied. Even after this, I still found myself confused at times, leafing back to these descriptions, remembering who was who. This problem is made infinitely more harder by the quick flicking from one point of view to another; Imperial Assassin constantly changed viewpoints, and while this is sometimes a positive attribute that allows the reader to know more about each and every character, in Imperial Assassin it just confuses and makes it hard to form a strong emotional bond with one character.
That being said, there are a few surprising little twists and turns that utilised the multiple viewpoints to their advantage, and I found that quite neat. The points of view could definitely be cut down though, allowing us to learn more about the characters that really matter- the main ones, which by themselves are actually half decent, with some interesting qualities that should have been shown off far more…
As with Imperial Spy, I must comment of the thoughts of the characters; some were unrealistic, and the lack of use of italics makes it hard to distinguish between thought and speech, which can be slightly annoying.
All in all, Imperial Assassin is an enjoyable book; the plot is good, and it's a shame that Robson's style can be so sluggish, when there is no doubt that with a faster pace Imperial Spy could be much better. Sadly, we must make do with what we have, and what we have is a gripping story of betrayal, romance and secrecy…