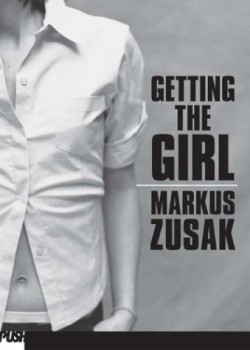 Synopsis: Cameron Wolfe is the quiet one in his family, not a soccer star like his brother Steve or a charming fighter with a new girl every week like his brother Rube. Cam would give anything to be near one of those girls, to love her and treat her right. He especially likes Rube's latest, Octavia, with her brilliant ideas and bright green eyes. But what woman like that would want a loser like him? Maybe Octavia would, Cam discovers. Maybe he'd even have something to say. And those maybes change everything: winning, loving, losing, the Wolfe brothers, and Cameron himself.
Cameron wants love, a girl, a kiss. He wants to care and be cared for, to love and be loved for, to hope and be hoped for. He's standing in the shadow of his brother; his brother who gets them all and tosses them away like a used condom when he's finished with them. His brother, who doesn't care for them or love them or like them, sometimes. Cameron wants one -just one- but he wants to love her and give himself to her more than anything in the world. Too bad his brother has already ensnared her.
Getting the Girl is the third and final part of a triumvirate of novels by Markus Zusak. I say triumvirate because I get the impression that the Wolfe Brothers novels are not a predetermined or continuous story but rather three separate tales that happen to be based around the Wolfe family- Steve, Ruben, Cameron and Mrs and Mr Wolfe.
I started with the last one. Not by accident or unintentionally but with purpose. I was drawn to Getting the Girl (published as When Dogs Cry in some areas), and having read it, when I come to read the first two novels, my understanding will be different, I think. The order of reading matters little, I think, because Zusak explores different ideas in each, and each is its own, defined novel. They are three but they are also on.
Zusak's explores isolation in much the same way that Salinger does in Catcher in the Rye, but without the overbearing and frankly horrendous self pity of Holden Caulfield and a little more poetic beauty. Zusak weaves himself through Cameron Wolfe's story, carefully and honestly, spinning painfully authentic poetry every couple of chapters that feels angsty and raw and perfect.
Getting the Girl is a love story. Not a run-of-the-mill romantic comedy, but the quiet, brooding tale of first love and first hurt. The feelings are raw and unedited, and yet they are neither overpowering or inherently manipulative. Getting the Girl is a portrayal of teenage lust and teenage angst and teenage love, and it has the quietness, the anger, the violence and the erotica of all those things.
Getting the Girl is a quiet walk of thought spun in the sprawling suburbs of modern Australia. It does not vaunt itself nor boast: it simply exists, waiting to be read. It is small and diminutive yet reading it brings an understanding of life that seems too profound for so few words. Zusak is not judging but showing, creating lives and wisdom and honesty with his words. My God, you cannot not read this novel- Zusak is a master.