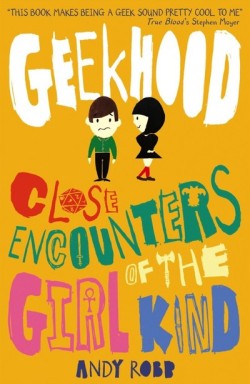 Geekhood: Close Encounters of the Girl Kind (Geekhood #1)
Synopsis: Archie is a fourteen years old and a Geek to his core. In the world of role-playing games, he's a Level 5 Mage, capable of summoning the Undead. In this world, things are rather different. With no rule book to navigate Life's Big Challenges - warring parents, a crass step-father, orc-like school bullies and rubbish hair - he's teetering on the brink... Then a Beautiful Girl appears in his Geeky world... Despite the fact that the closest he's come to an encounter with a girl is painting an Elven miniature, Archie embarks on a Daring Quest to win her heart.
Alas- how girls beguile geeks. Their attractiveness is a promise of the unattainable- at least, that's what Archie thinks. Stuck in a rut playing Dungeons and Dragons with his three mates, he wants to explore the subtler pleasures of life: womankind…
There are two ways in which to play a bildungsroman these days: either, it is touching, profound and conveys several of life's truths, or it parodies teen life and becomes a comedy (the only person I have read who has managed both is John Green). Both are successful in their own right: but it's very hard to strike a chord in between, and Geekhood doesn't manage it either.
Andy Robb chooses to briefly follow the life of fourteen year old Archie, professional geek and social outcast. Archie is the perfect age- he's both a little naive and yet incredibly sexually frustrated to the point that it's rather amusing to watch- and yet, he doesn't quite feel like an authentic fourteen year old male. It's almost as if Robb is reminiscing his entire teenagehood- from thirteen to nineteen- and then reincarnating himself into Archie, to mixed effect. The problem lies within the fact that a thirteen year old boy is very different from a nineteen year old man- in fact, very little is the same- and as such, there are a lot of contrasting and conflicting thoughts and feelings that don't quite add up to produce Archie.
Archie, of course, is after the girl of his dreams: Sarah. Who, it turns out, is a bit of a hippy and into the whole "the universe is talking to you" malarkey. Not overtly original, but I'll run with it if it entertains me. Which it does, but not quite as well as I've seen it used before. The problem, I think, is that Sarah isn't mysterious enough: she makes the first contact and isn't really shrouded in intrigue. A little too achievable, perhaps, to really inject any drama into the plot, regardless of how often Archie tells us how hot she is.
I suspect that Andy Robb was a Dungeons and Dragons fan himself as a teenager: he clearly understands the subject, unlike myself. Fortunately, Robb doesn't overplay that aspect of Geekhood: I wasn't particularly enthralled by talks of dragons and mages and goblins, but neither was I put off.
Robb injects Geekhood with enough un-wordly situations to make it funny: but at the same time, he attempts to make it meaningful and profound, and that, I'm afraid, falls flat. The chasm of contrast between the crazy and the profound is just a little too great to bridge, and as such, the ending feels a little out of touch and not least disappointing because of an odd twist of events between Sarah and Archie.
I've read enough coming-of-age novels this year to be particularly versed in what works and what doesn't. From the likes of Spud and Adrian Mole to the more serious Looking for Alaska and Getting the Girl, there's a lot of hard competition. Sadly, Geekhood doesn't trump any of them: the compromises it takes simply make it a jack of all trades, master of none novel just didn't resonate with me. However, I suspect that if you're either thirteen or fourteen, into Dungeons and Dragons (and similar), or looking for a read to roll back the years, you'll really enjoy Geekhood.