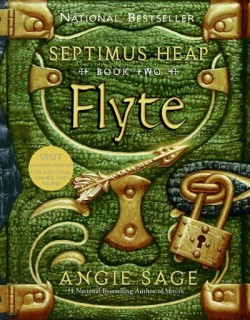 Synopsis: The evil necromancer DomDaniel has been disposed of, but something Darke is stirring. A Shadow pursues ExtraOrdinary Wizard Marcia Overstrand around, following her every move, growing stronger every day. Septimus senses something sinister is afoot, but before he can act, Jenna is snatched - taken by the most unlikely kidnapper. Septimus must rescue his sister but does not, at first, realise what he will be facing. ""Flyte" is the second of Angie Sage's engaging and energetic novels about Septimus Heap...We can't get enough. More, please!" - "The Times".
One year after the events of Magyk, Jenna now lives with her parents in the Palace, and Septimus with Marcia, learning the ways of the Wizard world. But when Simon -Jenna's oldest brother- kidnaps her, she is whisked away into the world of Darkenesse, in which Simon now strays. But when Septimus tries to tell everyone that she has been kidnapped, nobody believes that Simon would do such a thing. Septimus must rescue her alone, but it is not easy. For Simon has some nasty tricks up his sleeve…
In this chapter of the Septimus Heap series, we revisit the quirky world that Angie Sage so lovingly created in Magyk. The Heap's world is full of odd beasts and beings, liking it up to the works of J K Rowling and Terry Pratchett. Flyte brings with it exactly what it says on the cover -I'll leave you to find out how- in an original way, which personally, I quite like.
All of the main characters reappear in Flyte, leaving us with no lack of characters! The characters are odd and fun, and nothing like you would expect… But it's surprising to see that Septimus is only eleven years old- he seems much older than that in dialogue and description. The names of the characters are fun and yet very plausible given where they live, and none suffer from the classic fantasy syndrome.
Magyk is a very hard novel to top, and indeed Sage hasn't topped the first in the series. This is due to the slightly drawn out beginning, although the second half of the book is exhilarating to read (I read it in about a day).
After the rather cumbersome beginning however, Angie Sage manages to incorporate an action packed adventure with many unexpected twists and turns, and a few setups which are very intriguing. So although not having topped Magyk, Flyte is still a captivating book which should have you reading no end… And for those who are sick of the clichéd high fantasy, here is an entertaining alternative.