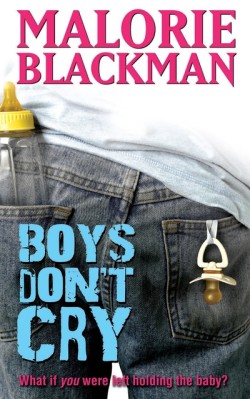 Synopsis:
In Boys Don't Cry, bestselling author Malorie Blackman explores the unchartered territory of teenage fatherhood.
You're waiting for the postman--he's bringing your A level results. University, a career as a journalist--a glittering future lies ahead. But when the doorbell rings it's your old girlfriend; and she's carrying a baby. You're fine to look after it, for an hour or two, while she does some shopping. Then she doesn't come back and your future suddenly looks very different.
Malorie's dramatic new novel will
...show all
People don't often think of the father's side of a teen pregnancy. But it's happened to Dante, a 17 year old with high hopes. He's waiting for his A Level results, when his ex-girlfriend arrives at his door with a baby. His baby. And then she's gone – leaving the baby with her shocked father. Dante has to cope, even if only for the baby's sake. But at the same time, all around his family, the world is collapsing (no, not literally…)
I have never actually read any of Malorie Blackman's novels. Criminal of me, I know…but I didn't know where to start. And then I found out about her newest novel – Boys Don't Cry – a 300 page story of teen parenting, sexuality and love. Then I knew to start there because I have a guilty pleasure for reading books like Boys Don't Cry. Don't ask…
As you would expect from an author who has received an OBE (Order of the British Empire) for contributions to Childrens' Literature, the prose is immaculate. First person narration is punctuated by quick, sometimes funny, honest and incredibly human speech – and I think this is what Malorie Blackman is famous for – her perception of humanity, of people. She'd make a damn good psychologist. The only problem I did have with the story telling is the double first person narrative. Most of Boys Don't Cry comprises of Dante's narration, but a few select chapters are from Adam's (Dante's younger brother) perspective. They don't really add anything in my opinion, as Adam's emotions come through Dante's narration quite well. All they do is distract and confuse us.
I can't say I have much experience with YA novels dealing with teen parenting, but I'm pretty sure there are very few that show it from the perspective of the father, and Boys Don't Cry is a very interesting take on the typical teen-mother stereotype. The fact that this is told from the father's perspective will probably ensure that it can be enjoyed by both males and females alike. While I can see how Boys Don't Cry will definitely appeal to la femme, there's a far higher chance of guys picking this up than there would be if Dante were a girl.
The funny thing is that this is as much Adam's story as Dante's, if not more so. What at first seems an intricate subplot turns out to be a very different beast – a story of being gay in modern society. Adam is content with his sexuality – but he is struggling in a world that isn't. It's Adam's quirky wit that carries most of the humour, but also a considerable amount of the cry-out-loud moments. In some respects, Adam's story is a lot more interesting than Dante's, and rather than being a distraction to the novel, his subplot-come-story is far more effective as told by Dante than himself.
But by far the best bits of Boys Don't Cry are the relationships between all the characters. They're intricate, complex but vividly human. Both Dante and Adam feel unloved, and their father feels unwanted.  Dante feels shocked at having a daughter at first, but invariably comes to love her incredibly. There's grief meshed into the family too – Dante's mum died when he was still young, leaving his less than perfect father to care for both him and Adam. Boys Don't Cry is a story perfected by its truthful reflection of society.
However, what moved me while reading Boys Don't Cry was the stark reminder that love is the basis for human life. Ignore what scientists say. We're not carbon-based lifeforms, we're love-based lifeforms. Boys Don't Cry sees love cause grief, heartbreak, happiness, but most of all it shows that love is one of the most important things in life, and we wouldn't be able to survive without it. At times, Boys Don't Cry pushed me onto the verge of crying, at other times to the point of laughter. But all the time, it reminded me of love – pure love, the kind of love that seems to be slipping away from modern society. Malorie Blackman's managed to catch some of that love, and has allowed it to shine through every page.
Boys Don't Cry is one fantastic book. It is a stark reminder of the duty we have to love people, to keep them going, just as they love us. Every page is steeped in honesty and truth, to the point of beauty. If you're a 15 year old guy just like me, then read Boys Don't Cry. If you're a 30 year old female – read Boys Don't Cry. Please, if you read any book this year, make it this one!