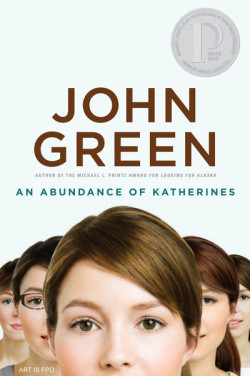 An Abundance of Katherines
Synopsis: When it comes to relationships, Colin Singleton's type is girls named Katherine. And when it comes to girls named Katherine, Colin is always getting dumped. Nineteen times, to be exact. On a road trip miles from home, this anagram-happy, washed-up child prodigy has ten thousand dollars in his pocket, a bloodthirsty feral hog on his trail, and an overweight Judge Judy - loving best friend riding shotgun - but no Katherines. Colin is on a mission to prove The Theorem of Underlying Katherine Predictability, which he hopes will predict the future of any relationship, avenge Dumpees everywhere, and finally win him the girl. Love, friendship, and a dead Austro-Hungarian archduke add up to surprising and heart-changing conclusions in this ingeniously layered comic novel about reinventing oneself.
Have you ever thought you'd only date girls who share a name? Perhaps it was a passing thought, but for Colin, it is a reality. For the past 10-15 years of his life, he's only been interested in Katherines. Not Catherines, Katys, Kats, Cates or Kate. Now, after having been dumped by his 19th Katherine, he's decided to go on a road trip to get away from it all. But his time spent on the road will be very different from what he imagined it would be like…
This is my second John Green novel in my quest to read all his books in order of publication before the release of The Fault in Our Stars, which will be his fourth solo novel but 6th novel in total (not counting his Zombie novella). After the excellent Looking for Alaska, I was hoping for a novel just as riveting. What did I get? I'm not quite so sure. I'm not going to deny it, An Abundance of Katherines sent me mixed signals. I am heavily conflicted as to whether this is a good book or not.
On the one hand, An Abundance of Katherines is clearly a John Green novel; it's filled with fun random facts, curious habits (in this case obsessive anagramming), and a somewhat profound message. But on the other hand it's a slightly disjointed, variably uninteresting story of someone with a lust for girls named Katherine.
The root of the problem, it seems, is with the very concept of the novel: Colin Singleton, a child prodigy, has a certain thing for Katherines. And lots of them- 19 over the years. This in itself is quite an abstract idea, and though I can almost sympathise, it isn't QUITE there yet. I can accept quirkiness, randomness, weirdness. What I cannot accept is having something like this just for the sheer fun of it- there needs to be a good backstory/reasoning if there is, and An Abundance of Katherines just hasn't got that.
Another part of the problem is Colin. Colin, the socially inept. Colin, the child prodigy who just wants to MATTER. Colin, the annoying, unsympathetic whiner. So, ok, maybe he isn't THAT bad- but he's annoying enough when he should be easily sympathised with to make the point. I had a hard time connecting with Colin, and I have a feeling that most people will. He just isn't likeable in the way he clearly SHOULD be.
As well as Colin, you have (what seems like with Green) the compulsory Asian/coloured kid Hassan who, as in Looking for Alaska, is the joker of the novel. And then, of course, there is Lindsey, the love interest who is amiable enough (and thankfully nothing like Alaska in Looking for Alaska). All three have character, but they lack certain somethings that bring words on a page to life- a certain vitality or quality that really makes them standout.
Though I have not completed my quest to read all John Green's novels to confirm this, I have a gut feeling that An Abundance of Katherines is his weakest work. Neither here nor there, it meanders its way through Colin's obscure life, focusing on oft-uninteresting flashbacks. The strongest parts were definitely the conversations between Colin and Lindsey in the cave, but those exempt, An Abundance of Katherines is not nearly as good as Looking for Alaska. This is not a book I would go out of my way to read anymore, and if you're looking for something of John Green's, I highly suggest Looking for Alaska, which was far more profound, funny, and enjoyable.