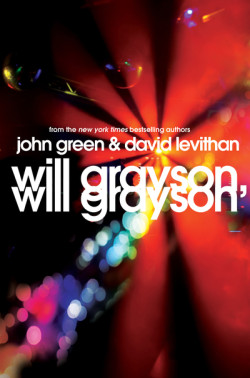 Will Grayson, Will Grayson
Synopsis: One cold night, in a most unlikely corner of Chicago, teenager Will Grayson crosses paths with…Will Grayson! Two teens with the same name who run in two very different circles suddenly find their lives going in new and unexpected directions. Culminating in epic turns-of-heart on both of their parts, they team up to produce the most fabulous musical ever to grace the high school stage. Told in alternating voices from two of the most popular names in young adult fiction, this unique collaborative novel features a double helping of the heart and humour that has won both authors legions of fans.
For most people, life changes in incremental steps. It is no different for two Will Graysons who briefly meet and part again- leaving each other with something they didn't have before.
It would be hard to get two more prominent coming-of-age, YA authors than John Green and David Levithan (the latter of which is particularly famous for his gay-literature) to co-author a novel. Both make their name for funny, dramatic, angsty writings of American Teenagehoods and Love and All Things Great and both their debut novels were gratefully received: Green's Looking For Alaska won the Michael L. Printz Award whilst Levithan's Boy Meets Boy was awarded the Lambda Literary Award.
Will Grayson, Will Grayson, then, is the marriage of two great young adult authors- and you can tell they had fun. The novel is told from the points of view of the two Will Graysons- one an angry, gay, angsty teenager hopelessly in love with a boy he has never met before and the other, shackled to the shadows of his large, overweight and charismatic (and also gay) friend. Green's chapters, which tell the tale of Will Grayson (as opposed to Levithan's lower-case will grayson to provide a prose distinction between the two) and his large friend Tiny Cooper, and include the usual Green flourishes of made up, alternative bands with Three Word Names*, is charismatic and, foremost, an entertaining tale with Green's trademark humour of OTT, almost unbelievable occurrences. Levithan's will grayson, on the other hand, is depressive, moody and intriguingly hateful of anything and everything, though still undeniable in love with a certain Isaac from the internet. He provided a satisfying contrast to Green's all-singing-all-dancing narrative, and it is will grayson whom I am most intrigued by: his relationship with his mother, his desperation for love and his brokenness all create a compelling character who's development is interesting to read. will grayson isn't whiny in a Holden Caulfield kind of way; he's headstrong, but also shamelessly disintegrating into nothingness, lost in an identity he isn't sure is his.
Of course, the lives of Will Grayson and will grayson clash at some point, bringing joy, love and resolution with them but not without their own fair share of pain and hurt. Dual narratives are always hard to balance evenly, and in the case of Will Grayson, Will Grayson, it certainly felt as if Green's Will was taking the limelight (and the page count) over the arguably more interesting Levithan grayson. In fact, it would be interesting to see Green and Levithan write two separate accounts of their characters before the happenings of Will Grayson, Will Grayson as a sort of prelude or prequel to the novel, fleshing out their characters wholly rather than just creating two that, though interesting, aren't always used to their full extent and almost sidelined and used merely as a plot device to Tiny Cooper, who hogs the pages.
Will Grayson, Will Grayson is certainly entertaining. It's certainly rude, but not untruthfully so. It's also slightly melodramatic, in true coming-of-age style. For most part, it is a delightful tale of teenage life and love that doesn't dig too deep into emotional problems and offers instead a funny, quick, enjoyable read. And though it's muddied by an all-too over-dramatic, soppy ending, it still bears reading, if only for the deeper, more meaningful character of Levithan's grayson.
*I have been notified over Twitter by a very kind @hyriggy that Neutral Milk Hotel, the band mentioned in the novel, is in fact a real band. According to Wikipedia: "Neutral Milk Hotel was an American indie rock band formed by singer, guitarist and songwriter Jeff Mangum in the early 1990s. The band was noted for its experimental sound, obscure lyrics and eclectic instrumentation."