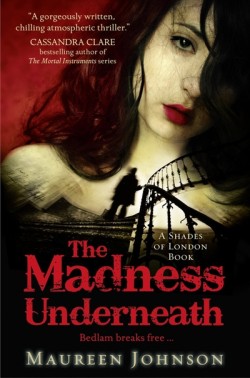 Synopsis: When madness stalks the streets of London, no one is safe… There's a creepy new terror haunting modern-day London. Fresh from defeating a Jack the Ripper killer, Rory must put her new-found hunting skills to the test before all hell breaks loose… But enemies are not always who you expect them to be and crazy times call for crazy solutions. A thrilling teen mystery.
If you thought London would be a calm and ghost-free zone after the defeat of Jack the Ripper, think again. This time, though, the threat isn't just from the spiritual, and Rory must be careful with whom she calls a friend…
The Madness Underneath tells a more domestic tale than its predecessor, focussing on Rory's rehabilitation and recovery following the violent supernatural events that plagued her in The Name of the Star. If you were worried that this meant a slowing of pace, fear not: Johnson has an incredibly ability in making the trials and tribulations of boarding school as entertaining as a murderous ghost chase – and who doesn't fall for a sweet little romance?
Rory's narrative is as engaging as ever, with witty tangential thinking that could only have come from the author herself (if you don't know what I mean, try following her on Twitter @maureenjohnson). Rory is increasingly authentic, unsure about her romantic pursuits and worried about her future. The Madness Underneath sees her battle against an increasing sense of isolation as she tells lies to everyone she knows, thanks to the extremely classified nature of the activity she is involved in.
It isn't all domestic fun though, as Rory is coaxed away by a suspicious group of people who also possess the Sight and offer her their allegiance – though at what cost is unclear. The Madness Underneath certainly has its fair share of action and ghost-busting as well as a heart-stopping finale that is enough of a cliffhanger to make you desperate to read the next book but not too much so that there isn't a satisfying conclusion.
Johnson takes a slightly calmer, less action-packed direction in The Madness Underneath but manages to deliver as addictive a book as its predecessor. Though it suffers from a little middle-book-syndrome, there is more than enough here to make it a thoroughly entertaining and heart-wrenching novel.