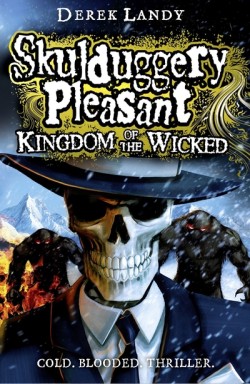 Synopsis: The seventh instalment in the biggest, funniest, most thrilling comedy-horror-adventure series in the universe - and the follow-up to 2011's number-one bestseller, Death Bringer… Magic is a disease. Across the land, normal people are suddenly developing wild and unstable powers. Infected by a rare strain of magic, they are unwittingly endangering their own lives and the lives of the people around them. Terrified and confused, their only hope lies with the Sanctuary. Skulduggery Pleasant and Valkyrie Cain are needed now more than ever. And then there's the small matter of Kitana. A normal teenage girl who, along with her normal teenage friends, becomes infected. Becomes powerful. Becomes corrupted. Wielding the magic of gods, they're set to tear the city apart unless someone stands up against them. Looks like it's going to be another one of those days…
Skulduggery and Valkyrie are back to wreak justice on the wicked: even if that wickedness started out with good intention. Kingdom of the Wicked sees them pushed to their limits both magically and morally: how can they go about killing those who kill others? It's a question that Landy has yet to answer (and with two more books left, plenty of time too, though the end is nigh!) and one that is reinforced throughout the novel as the ass-kicking pair are met by the most powerful magician ever: Argeddion, who has discovered his true name. He's dangerous, even if he IS a pacifist, and I suspect we won't have heard the last of him as the final trilogy in the Skulduggery Pleasant series begins its cycle.
Much like its predecessors, Kingdom of the Wicked is both a self-contained story as well as the beginning of an overarching arc. However, brilliant as Landy is, there were times when elements began to feel familiar, or at least, feel as if they need to be addressed very soon. The most prominent one, perhaps, is the use of Skulduggery and Valkyrie's uncompromising and violent alter-egos, who in the last few books have been habitually used on Landy's part to save the day, only to be put away "never to be seen again". That is, until the next instalment is released. On a positive note, Landy has no hesitation of making his heroes antagonists and Kingdom of the Wicked certainly pushes the boundaries of the reader in terms of what they're willing to forgive.
With any other author, the series might be have been getting a little tired with its seventh instalment. Landy, however, has proven moreover that he is extremely capable as a writer, and as the series leaves its naïve roots behind and becomes rather violent and dark (in a fantastic way), it's clear that the next two books won't lack in quality. Kingdom of the Wicked is another excellent instalment in one, if not THE best middle-grade/young-adult crossover series of the last decade.