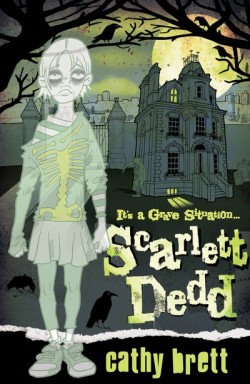 Synopsis: You're dead Scarlett... Previously a poor taste jibe from school frenemies, now a statement of fact. Scarlett is absolutely mortified (in more ways than one) to discover that she's accidentally killed herself while trying to get out of a school trip. Even worse, she's taken her entire family with her. Life as a ghost is pretty dull - if only some of her friends were dead too...
It was a bit of an accident really, dying. She hadn't planned it at all, it just sort of… happened. It all started when Scarlett picked some mushrooms and decided to make a nice, mushroomy dinner. In fact, it all ended with that too; it killed her. Now she's a ghost, haunting her house, trying to find ways to get her alive friends to notice her, and she's got a nasty plan…
Scarlett Dedd is Cathy Brett's second YA/pre-tween novel. It's full of illustrations by Cathy Brett, and there are plenty of the cartoony-style drawings dotted throughout the book. Scarlett Dedd is probably the first YA novel that actually has a decent amount of text and pictures…No doubt this will be a hit with younger readers who aren't so keen on reading page after page of writing.
The characters, particularly the main characters are quirky and fun. As an older reader, I do notice the lack of character development and depth, but Scarlett Dedd was written for older primary school kids, and this is the sort of thing they would love. Scarlett is funny, odd; a typical British teen. Scarlett's family are also appropriately annoying to start with- just like everyone's parents! Scarlett Dedd really presents British teen and pre-teen life, although perhaps an innocent version of it…
The plot is weird, funny and full of laughs. From when Scarlett dies and kills her family in quite a pathetic way, to the way she wants to kill her friends (!), Scarlett Dedd is one weird, humorous novel. At times, it can be a little jumpy and cut up, though, something that really dampened the reading pleasure. The last third of the novel improves on this, and as such it is my favourite part- everything comes together in a neat way.
Cathy Brett and Headline have really tried to make this a fun and unusual book – that it certainly is, with it's wonderful drawings to the rather quirky story arc…But one thing that bugged me was some of the text formatting. Most of it is fine- it's still readable, but some of the text spirals, and the only way to read those pages is to turn the book. I have to say, I was just too lazy. I guess it increases the interactivity for younger kids, and I'm probably too old to be excited by having to turn the book 360 degrees!
While Scarlett Dedd might feel underdeveloped for older readers, for the 10-12 year old market, this is a book that will really be enjoyable to read. Even for reluctant readers, I can see Scarlett Dedd being an enjoyable and funny book. The fabulous illustrations are sure to catch anyone's eyes, and the rather gory subject matter will, no doubt, amuse pre-teen boys…