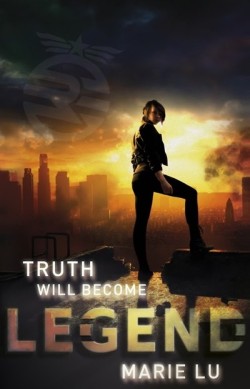 Synopsis: Los Angeles, California Republic of America He is Day. The boy who walks in the light. She is June. The girl who seeks her brother's killer. On the run and undercover, they meet by chance. Irresistably drawn together, neither knows the other's past. But Day murdered June's brother. And she has sworn to avenge his death.
Two teenagers. One destiny.
June and Day are about as opposite as you can get them; June, the only person in the whole republic to score 100% on her Trial lives with her brother in wealth. Her counterpart is an outlaw on the run who's been upsetting Republic affairs for many years. They don't know who he is or what he looks like.
In the wake of The Hunger Games, a common litmus test amongst reviewers is to compare a dystopian novel in question with its bestselling counterpart. It seems remarkably easy to do this with Marie Lu's debut novel, Legend, which is also set in North America, though this time round, it's called the Republic and not the Capitol and is ruled by the Elector Primo rather than a certain President Snow. Still, the intent remains: there is very little to define the world in which Legend is set from any other contemporary dystopian, though Lu does broach some interesting ideas, if only briefly in a sentence or two (the conquest of China? Now that's something I want to read about).
Predictably, Legend follows a pattern set by many dystopian (and non-dystopian) novels; take two characters who are at seemingly opposite ends of the spectrum and rope them together and see what happens (of course they'll fall in luuuurve) before rebelling against higher authority and (eventually) righting the world/state/county from its dictatorial shackles. The last requirement has yet to be fulfilled, though it should be remembered that Legend still has two sequels to spawn. Patience, my love, as Gollum would say.
Marie Lu puts particular emphasis on the point that both Day and June are remarkably similar, at one point having June remark "sometimes it feels like we're the same person born into two worlds". That would certainly explain why their narrative voices are so similar (annoyingly interchangeable, in fact), but not why they're pretty much the same person, except with differing genitals: both are good fighters, both observant (sometimes to a Holmesian level) and both uber-intelligent. Lu gave herself very little time to inspect both Day and June, and this is noticeable: though they are striking, neither of them are particularly deep. Perhaps this will be addressed in the sequels.
Though Legend gets off to a somewhat mundane start (I almost got bored in the first 100 pages or so), things do pick up considerably once our two protagonists' stories collide- which is when the fun really begins. As well as that, Lu does good job of making both narratives equally entertaining, which is a rare feat.
Legend is one of those books that could get away with bloody murder and still be an entertaining read. In fact, it does get away with bloody murder at times (figuratively and literally) and even so, it is an exciting and enjoyable read. Once I dug a little deeper and actually thought about what I was reading for a moment, there was surprisingly little to get hold of.
If you like your reads to be exciting, fast and furious, then I'm sure Legend will entertain you for the brief amount of time it takes you to read this 300 page novel. Marie Lu's bare-bone prose allows you to zip through with little effort, for for some (such as myself) it may seem a little to simple or incongruous. Legend is one of the few books where I really enjoyed both sides of the narrative in equal measures and will entertain you if you're up for a quick, gripping read where a little suspension of disbelief is needed. For those looking for deeper or more developed novels, I suggest something more along the lines of Pure or Blood Red Road.