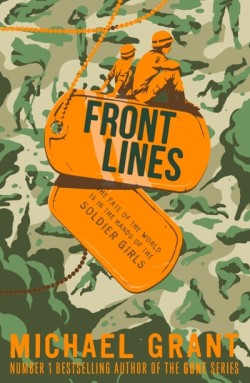 Synopsis: Just when you thought Michael Grant's GONE series had taken us to the darkest limits of his imagination, the evil genius of YA fiction is back to take you to the Front Lines of terror. In the tradition of The Book Thief, Code Name Verity and Between Shades of Gray, Front Lines gives the experience of WWII a new immediacy while playing with the 'what ifs?' of history. It's WWII, but not as you remember it from history lessons! This time the girls aren't stitching socks for the brave boys at the front. Meet Rio Richlin and her friends Frangie Marr and Rainy Schulterman, three of the newest recruits in the US Armed Forces. They stand shoulder to shoulder with the boys from home as they take on Hitler's army. In the face of reluctant colonels and sceptical sergeants, the soldier girls must prove their guts, strength, and resourcefulness as soldiers. Rio has grown up in a world where men don't cry and girls are supposed to care only about 'money and looks'. But she has always known that there is something wrong with this system and something else in her. Far from home and in the battlefields, Rio discovers exactly who she is and what she can accomplish
There've been plenty of World War Two narratives in the history of fiction, but one thing that's been missing from all of them is the presence of female privates, sergeants, corporals – even generals. That's because they didn't exist back then. Women were not permitted to fight, were not drafted, could not enlist. Which makes Michael Grant's Front Lines somewhat of an enigma: an alternate history.
I'm not certain why Grant chose to include women in his narrative of the war: and the role and importance of alternate histories is an altogether different debate. But one thing is for sure: by the time you've finished Front Lines, you'll be hard pushed to remember the 'real' history in which women weren't fighting. The idea of women soldiers (I would call them soldiers, if it weren't for the fact that it wasn't such a unique point) seems so natural, so normal to our 21st century imaginations, that it can become difficult to remember that they didn't.
It's not so difficult to imagine what women in 1940s Western society had to deal with, though. Grant's re-imagination of the War isn't forceful, but neither does it skirt past the prejudices of the time. This is not some pretty utopia of equal rights: it's a time in which many people were (as Grant notes in his Author's Note) heroes but not saints. Threats of rape, dismissal and harassment all occur, as surely as they must have occurred for women in the 40s, even if they were not fighting. Equally, Grant is careful not to present these stories of inequality as some kind of social triumph; in a few cases, yes, the prejudices are crushed. But most are not: this is, above all, a realistic novel. Grant treats his female characters as people, first and foremost, and not as women. So for all its diversions from history and the trumpeting of female soldiers, very little is actually different in Front Line. It's a story about greenies going to a war: it is incidental that they are women.
The novel benefits from Grant's easy prose. There's a somewhat unnecessary frame narrative that takes up little more than a couple of pages – beyond that, it's a languid third person present tense that allows him to present the intersectional experiences of his imagined female soldiers; three, in particular, though there's room for expansion. As with any multi-perspective story, some characters will be closer to some readers than others, but it's the variety that keeps in interesting and fresh.
The individual beats of the story are hardly new: Western society has been canonising war writing for decades, and there's hardly a story that doesn't feel familiar. Front Lines' selling point is its characters: characters you won't see in any other novel because they are fictionally involved in a fictional scenario: the existence of female soldiers. There are plenty of young adult novels about World War Two. This one's different. Give it a shot.