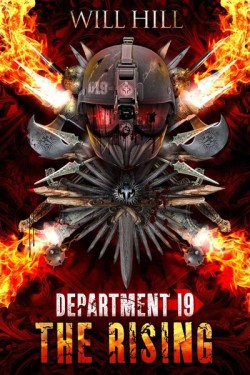 Synopsis: 91 DAYS TILL ZERO HOUR. THAT'S 91 DAYS TO RUN. 91 DAYS TO HIDE. OR 91 DAYS TO PRAY FOR DEPARTMENT 19 TO SAVE YOU… After the terrifying attack on Lindisfarne at the end of the first book, Jamie, Larissa and Kate are recovering at Department 19 headquarters, waiting for news of Dracula's stolen ashes. They won't be waiting for long. Vampire forces are gathering. Old enemies are getting too close. And Dracula… is rising.
After the terrible events of Lindisfarne, in which Jamie's friend and mentor, Frankenstein, topples over a cliff, new, greater, more terrible things are beginning to happen. The remains of the first vampire Dracula have been uncovered by Valeri Rusmanov, and he has been resurrected. It will not take long for him to recover to his full and terrifing strength- when even Department 19, with all their weapons and intelligence, would struggle to destroy him. The clock is ticking.
After the taming of vampires in Twilight and other paranormal romances, there has been the hint of a backlash in the YA world. Will Hill's debut novel, Department 19, is at the forefront of this wave of neo-horror and vampirism, dealing deadly blows of blood, guts and, of course, some very nasty vampires. Quite simply: a boy's wet dream.
Department 19, the first book in the similarly named series, was published last year, much to critical (and I believe, commercial) success. The 700 page sequel, which is being massively anticipated by fans, is being published this March, and having read it, it's clear why: it's absolutely fantastic.
Second books are notorious for their not-so-glad tidings of disappointment that they often bring with them: often, they're sidelined by the climax of the last book and the discovery of something new in the first book that readers often experience. Department 19: The Rising has none of these qualms: it's bigger and better than Department 19. By a long way.
It's clear that Jamie Carpenter, our teenage protagonist, is considerably more mature than he was in Department 19. At times, Will Hill talks of him as a "man"- and with good reason. Jamie acts like a 25year old at times, as he should as such a vital part of the government organisation to combat supernatural creatures. At other times, however, he is little more than a confused and conflicted teenager, lost without Frankenstein to look after him and capable of some abhorrent acts. This is one of the things that is so delightful about The Rising: Jamie is so flawed and so human, so full of rage at times and yet so capable to love. My worries that Will Hill would neglect the characters of his series have completely and utterly vanished: I could not ask for a stronger, more interesting group of people. Valentin Rusmanov, particularly, as a suave but deadly vampire, had me particularly ensnared, and is possibly one of my favourite characters yet.
Structurally, The Rising is considerably more complex than Department 19, with interchanging narratives told from various points in time that come together to really tell a thrilling story. Hill weaves in and out of time, explaining relevant details to supplement the "present" plot and showing us, rather than telling us through the multitude of characters to create a fluid and thorough experience.
It is not often that a sequel surpasses its original, but in the case of The Rising, Will Hill has nailed it with a sympathetic and developed set of characters as well as an exciting and varied narrative that brings the ideas behind Department 19 to life. I have no doubt that fans of the series will be thrilled, as I was. And if you're not a fan, what are you waiting for?! There is no doubt that Hill is one of the leading authors of boys' books right now.