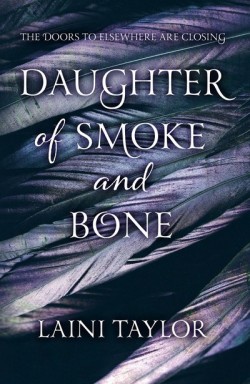 Synopsis: Errand requiring immediate attention. Come. The note was on vellum, pierced by the talons of the almost-crow that delivered it. Karou read the message. 'He never says please', she sighed, but she gathered up her things. When Brimstone called, she always came. In general, Karou has managed to keep her two lives in balance. On the one hand, she's a seventeen-year-old art student in Prague; on the other, errand-girl to a monstrous creature who is the closest thing she has to family. Raised half in our world, half in 'Elsewhere', she has never understood Brimstone's dark work - buying teeth from hunters and murderers - nor how she came into his keeping. She is a secret even to herself, plagued by the sensation that she isn't whole. Now the doors to Elsewhere are closing, and Karou must choose between the safety of her human life and the dangers of a war-ravaged world that may hold the answers she has always sought.
Imagine teeth- all kinds of teeth. Dogs' teeth. Cats' teeth. Jackals' teeth. Human teeth. Within them is a power that can only be unlocked by Brimstone in all his new devilry. Working quietly away, elsewhere, he seeks to create wish-fulfillment. But soon the Seraphim will find him and break him and extinguish his dark magic from the faces of Earth and the Erets. Karou will walk alone- no longer protected by Brimstone. She will be found and all we'll be revealed- every secret that's ever been kept about her unusual life. And she will have to decide whose side she is on- because there can only be one victor in this war.
Daughter of Smoke and Bone is based on an exemplary idea (from what can only be a very imaginative author), one that involves angels, chimaera, wishes, and teeth. Laini Taylor's frankly unique spin is not like anything I've ever heard before, and it certainly captures the imagination, more so than any supernatural novel I've read in a long time. More than anything, it is this core concept that is the jewel of the novel, and few books could trump it in originality or genius.
Taylor does a great job of visualising the scenes, bringing the fantastic Gothic scenery of Prague to life as well as colouring the scenes set in the Middle East. Both the settings and the concept reminded me of the best-selling Bartimaeus Trilogy by Jonathan Stroud, which exudes a very similar atmosphere as Daughter of Smoke and Bone– fantasy combined with established mythology. Her writing is intriguing and well composed, bringing out all the necessary elements.
That being said, Daughter of Smoke and Bone isn't all fun and laughs. As the novel reaches a mid-point and takes a turn into a chunk that relies heavily on romance, Daughter of Smoke and Bone loses its way ever so slightly from the wonderful mythology Taylor sets out. Instead of continuing on a quest around the world involving the aforementioned demons and angels, we're "treated" to romance that, while making sense in hindsight, is rather uninspiring to read about, detracting from the wonderful fantastical elements that really make this book. However, this is soon recovered and the ending is as strong as the beginning, though the final plot twist isn't as unexpected as one might think it is.
Daughter of Smoke and Bone is based on a wonderful idea, unlike anything I've ever read, and for most part it is a sound read. However, once it strays from the supernatural/fantasy path set out and veers of into romance-country, there is a risk of alienation, particularly to those who don't like insta-love. This flaw doesn't manage to diminish this wonderful novel much though, and after finishing Daughter of Smoke of Bone, I was left in a breathless state of absorption. I cannot wait to continue Karou's journey in the two sequels.