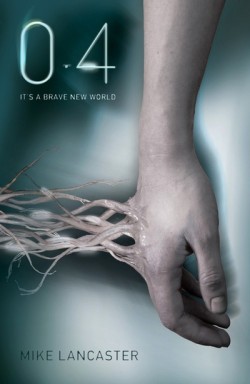 Synopsis: It's a brave new world. 'My name is Kyle Straker. And I don't exist anymore.' So begins the story of Kyle Straker, recorded on to old audio tapes. You might think these tapes are a hoax. But perhaps they contain the history of a past world...If what the tapes say are true, it means that everything we think we know is a lie. And if everything we know is a lie does that mean that we are, too?
From many years into the future; Kyle Straker is a teenager from the past. Two years ago, several tapes were discovered in an old house. Tapes, or audio cassettes, are an old technology dating back approximately to the latter half of the 20th century.  On these tapes, Kyle Straker recalls the disturbing occurrences of one particular day in his rural village's talent contest where, after volunteering to be hypnotised by his best friend, the world he closed his eyes on was not the world he opened them to.
There is only one way I can accurately describe 0.4: weird, and nothing like what I expected. Consisting of transcripts of tapes of Kyle Straker recalling an abnormal summer's day in his small village of Millgrove in Cambrideshire, I couldn't help but wondering whether 0.4 was being presented in the wrong format; perhaps an audio book/radio play would have suited this debut novel by Mike Lancaster better?
0.4 presents a unique idea, and one that will probably disturb you. I'm not sure I'd want to delve into Mike Lancaster's imagination if he writes things like this, because truly, 0.4 creeped me out! 0.4 is what I like to call subtle sci-fi: sci-fi that permeates each page without making it too obvious. It's not the intergelactic-space-travel hardcore sci-fi, but the kind of sci-fi where humanitarian ideas are explored and the focus is on the characters rather than the actual science-fiction. And what's more, Mike Lancaster isn't trying to sugar-coat 0.4 to appeal to the paranormal-romance fans, as many recent sci-fi novels have done in the last year or so (I Am Number Four and Across the Universe come to mind).
0.4 is quite a short novel: at 273 pages double-spaced text, it doesn't take long to read, and I think that is part of the reason why none of the characters are really fleshed out much, including Kyle Straker. As the narrator of 0.4, you would expect to be a pretty concrete character. That being said, the main characters are all defined reasonably well, and Kyle particularly is easy to connect to and read about. He would have to be my favourite of the lot. Much like me, he likes to find things out and doesn't like being ignorant. Then again, 0.4 requires Kyle to be your run-of-the-mill everyday guy.
One of the biggest things that struck me about 0.4 though, was its pure Britishness. Mike Lancaster manages to paint a picture of 21st Century British suburban life perfectly, and there are plenty of cultural references which many British teens will nod in agreement to and American teens will wonder if this really is how day-to-day life is in the UK! The problem with including such an amount of cultural references is that it tends to date novels with extreme efficiency. The "Editor's Notes" that are peppered randomly, attempting to explain all the mysteries from the bygone era of the 21st Century will surely help, but even so only time will tell.
Again I must return to the one word that describes 0.4 in a nutshell: weird. Weird, and yet completely believable. 0.4 is an easy, soft sci-fi read which I'm sure will get many teens into reading more "proper" sci-fi as well as dystopian fantasy. This eerily exciting read will have you puzzling until the very end and beyond, introducing some fascinating concepts.