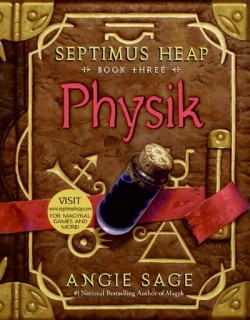 Synopsis: When Silas Heap unseals a forgotten room in the Palace, he releases the ghost of a Queen who lived five hundred years earlier. Queen Etheldredda is as awful in death as she was in life, and she's still up to no good. Her diabolical plan to give herself ever-lasting life requires Jenna's compliance, Septimus's disappearance, and the talents of her son, Marcellus Pye, a famous Alchemist and Physician. And if Queen Etheldredda's plot involves Jenna and Septimus, then Dark adventure awaits With heart-stopping action and endless wit, Angie Sage continues the fantastical journey
When Silas Heap UnSeals a Sealed room, he is unknowingly unleashing a vicious Queen that has been waiting for 500 years. And now that Septimus Heap, the seventh son of the seventh son lives at the Wizard tower, her time has finally come. She seeks eternal life, so that she may rule as Queen once more, forevermore. But time is hard to cheat, and now that she is free Septimus stands unknowingly in great danger, on his own.
Slightly more Darke and with a plot that champions both Magyk and Flyte, Angie Sage returns again with a top notch fantasy, the third in the Septimus Heap series. Sage continues to write with her sharp witty style, and Physik is filled with many unexpected twists and turns…
Physik features a more complex plot than that of Magyk and Flyte– indeed utilising time travel in a rather unique and somehow enjoyable way. Sage has incorporated time travel into the plot rather soundly, although it certainly left me questioning the principles behind it. I consider this to be the greatest conceptual weakness of Physik- indeed, J K Rowling certainly triumphed here when she wrote The Prisoner of Azkaban, which, essentially, does explain the core element of time travel in the Harry Potter series.
The opening few chapters may have some readers stumped; neither show us our main characters, but introduce us to two new ones, in a rather ineffective way that lets the story down. Fans of both Magyk and Flyte may struggle through them, eager to read on and catch up with Septimus and Jenna, and others may get bored, but after the dissapointing start we are soon rewarded in a thrilling read which so far, is my personal favourite, bringing together a Stronger and more complex plot in which older readers may delight in far more than the rather simple storylines of both previous books.
We're introduced to two or three new main characters, including a new villain, you'll be glad to hear, who has rather different motives to DomDaniel, and is in my opinion far more intriguing. Marcellus Pye -the greatest Alchemist and Physician the castle has ever seen- joins the crew, albeit being born 500 years before Septimus' time…
One of the many things fans of the book will love are the names of the characters, which are so inventive and uncharacteristic of fantasy. Angie Sage manages to name her creations wonderfully, in a style which is similar to that of Phillip Reeve. This time around she has not let us down, with names like Marxellus which seem to fit so perfectly into the world Sage has created.
Once again Angie Sage manages to pen a spell-binding story (no pun intended!) with tension and comic relief, making for an enthralling read for readers of all ages. Sage's style is both charming and exhilirating, and I fully recommend this book (but read the previous two first!).