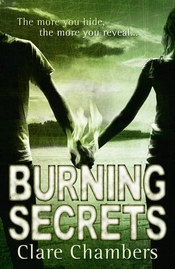 Synopsis: An intense and thrilling teen mystery set on a tranquil island where all seems perfect… Daniel has dark secrets and a troubled past. So when his family move to the island of Wragge, a gentle backwater where local life remains undisturbed he feels he's escaped. But outsiders aren't always welcome and the more Daniel tries to conceal, the more he reveals about sinister goings on. Does this picture perfect community have something even greater to hide? An explosive thriller that tingles with brooding menace and ignites as the clues fall into place…
Moving from London to the remote island of Wragge, Daniel, Louie, and their mum expect a little break from the hustle bustle and stress of city life. Wragge is a beautiful little island filled with friendly neighbours and rugged landscapes. But in places like Wragge secrets are hard to keep, and Daniel isn't the only one with something he needs to hide…
Few covers have ever less suited their book than the cover of Clare Chamber's Burning Secrets. Anyone even so much as glimpsing the green tinged cover would expect to find a supernatural romance novel hidden within its pages, but the truth is so very different. Burning Secrets is so much more than just an overdone cliche, and it's a real shame that the cover doesn't accurately convey the enjoyable novel bound within.
Anyone that has ever read any of Agatha Christie's Miss Marple or Poirot novels will know that thinks in tight-knit, rural exclusive communities are hardly ever what they seem- and the island of Wragge is no different. Although from the outside it seems perfect- a place where everyone is acquainted, where the school is exemplary and everyone is happy- there are secrets to be had. And again, to anyone with any experience of mysteries, the secrets of Wragge in Burning Secrets is neither ground-breaking or particularly well hidden. I had guessed within about 100 to 150 pages what was going on an how. Regardless, Burning Secrets was still a fun read and I really enjoyed uncovering all the clues confirming my suspicions and deepening the story.
The characters of Burning Secrets aren't particularly special. Daniel is like a bog-standard teenager (albeit a little more perfect than a teenage boy), as is Louie, his sister. Ramsay, apart from the overtly masculine name, is a pretty normal love interest. But then, that is what the story requires: a bunch of normal teenagers living a (reasonably) normal life, and Clare Chambers conveys that with reasonable accuracy, and at least she hasn't given them all wacky skills just to make them seem unique and original.
Burning Secrets is written in third person, all except for a few small flashbacks written in first person from their respective characters. Chamber's prose is fluid and easily read, and like all good prose, isn't garish and doesn't detract attention from the story.
Though its concept is fairly unoriginal and the 'breakthroughs' are pretty easily guessed at, Burning Secrets is far from a dull read. I won't be thinking of this novel in several weeks time and it won't ever top my reading charts, but Burning Secrets still offers an entertaining and enjoyable read, fulfilling my expectations of a good, short novel. If you're looking for a quick and fun read, then Burning Secrets might catch your eye.