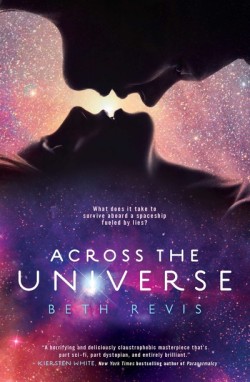 Synopsis: Amy has left the life she loves for a world 300 years away Trapped in space and frozen in time, Amy is bound for a new planet. But fifty years before she's due to arrive, she is violently woken, the victim of an attempted murder. Now Amy's lost on board and nothing makes sense - she's never felt so alone. Yet someone is waiting for her. He wants to protect her; and more if she'll let him. But who can she trust amidst the secrets and lies? A killer is out there – and Amy has nowhere to hide . . .
Seventeen year old Amy faces a choice: be cryogenically frozen and travel though space for 300 years to be with her parents, or stay earth-bound with her boyfriend. It's not an easy choice, but she could never live without her parents. Too bad she's woken up from her ice-induced dreams prematurely – 50 years too early, in fact. Not only that, but her awakening was nearly her death. It was only thanks to the help of sixteen
year old Elder, and the ship's captain Eldest, that she survived. Trapped inside the huge, but not nearly big enough, spaceship the Godspeed, she has decided to protect her parents from the fate that so nearly happened to be hers…
Penguin has been publishing a lot of YA sci-fi/romance novels recently: I Am Number Four last year, Across The Universe this year. As a guy, I was enticed more by the sci-fi/thriller aspects of the novel than anything else (although I am a fan of romances – just not sappy ones!). I can't say I'm particularly sci-fi savvy, although I do enjoy it, but I have dabbled enough in the genre to know that Across the Universe doesn't break any new ground. Cryogenics have been an intricate part of fictional space travel for many years after all, and anyone claiming that Across The Universe is bursting with original ideas (in terms of the actual sci-fi) would be wrong.
What makes it different does make it more unique, and more… humane, if that can be said. It is, in a sense, completely "un-sci-fi" in the way that no new planets are seen, no nothing, only the inside of the Godspeed, the huge interstellar cruiser-ship. What makes Across the Universe interesting to read is the human story. More than anything else, Across the Universe is a study of personality, control, and leadership. Without giving too much away, Across the Universe asks the question of 'How much is too much?' in terms of deception and control. It doesn't sound thrilling when I put it on paper like that, but let me tell you that it really makes for a great story. Across the Universe is almost "un-sci-fi" in its science fiction because it's not really about interplanetary exploration at all!
Sadly, the story is ultimately also the greatest downfall for Across the Universe. Unlike what I read in many reviews, Across the Universe isn't always as surprising as peole make it out to be; I was often "ahead of the game" as it were, in terms of what was going to happen next. In many cases, it took a while for the characters (particularly Elder, the guy protagonist) to work things out, which can be incredibly frustrating.
The characters, again, can't be said to be a strong point of Across the Universe, although they do their job adequately. It was hard to differentiate between the two main protagonists as they both co-narrate the novel, and the only clue as to who was narrating when was the fact that the chapter was titled with their name. Elder and Amy are far too alike, and Elder could have benefited from being a bit more masculine.
Over all, however, I really enjoyed reading Across the Universe, and in all honesty, only a good book could keep me reading it for several hours straight – without interruption! The romance, which the cover and synopsis suggest is omnipresent, hardly exists at all, although I was touched by it when it occurred. If you think that sci-fi isn't for you, than this is definitely a book you should try; Across the Universe is the sci-fi novel for those who have never enjoyed sci-fi! Across the Universe, while lacking in some areas, is an enthralling read, filled with anticipation and based on a solid concept.