Seeing Kate Bush: a few thoughts
As a follow up to my previous post about seeing Kate Bush (KATE. IN THE FLESH), here is a quick post having just seen THE SPECTACLE. I don't want to give a review of Before the Dawn – but I do want to spend a few words making a few observations. WARNING: CONTAINS SPOILERS.

Kate Bush does what she wants, how she wants. There's no feeling that she's putting on a face just for her audience; as she dances around unchoreographed, she seems to be having the most fun. She makes it her own, and doesn't feel forced to do anything. Wants to give her son a beautiful solo song half way through her second set? Sure. The audience don't mind – regardless of who's singing, it's Kate's vision being executed here and we're quite happy to bask in her creativity.
Before the Dawn steers well clear of a Greatest Hits Comeback Concert – thankfully. It could have been so predictable – sing a few of her most famous songs Wuthering Heights, The Hounds of Love, Babooshka, the Man With the Child in His Eyes…pander to the audience's desire to hear her sing those songs. Instead, she takes us on an adventure throughout her discography, avoiding for the most part big hits and instead focussing on narrative collections such as the Ninth Wave and the Sky of Honey, setting them to beautiful stage craft and choreography.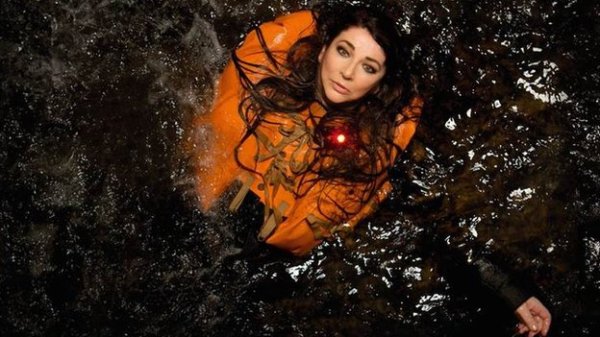 Her creativity is utterly unpredictable – and utterly entertaining. There's no telling where she'll go next, or how she'll do it as her elaborate stage sets attest. One moment a beautiful rough sea is created with projection and fabric – the next, the surround sound and a smoke and lighting rig recreate a rescue helicopter. In the second half it's even less predictable, and ends in a cacophony of sound – a frenzy, if you like, as a birch tree plunges through the grand piano (entirely intentional, it seems, as she plays it during the encore!) Before the Dawn is a visual feast in addition to her stunning voice and music.
The crowd is mesmerised by her – even when she's just by herself at the piano (perhaps even more so, then). Everyone is craning their necks on their seats, listening rapturously. I have never been to a concert where the focus of everyone (and I mean everyone) has been so concentrated and receptive. If hearing her perform hits such as Running Up That Hill made the crowd want to join in, then hearing Kate's tender vocals soar in a Sky of Honey made them want to bask in her voice.
I cannot say how pleased I am to have been present for such a momentous occasion. Though it was down to dumb luck – with so few tickets and so many people who wished to go – I am honoured and inspired to been part of Kate's audience, and can only hope to be part of it again in the future.