Interviewing Catherine Bruton
Today I have the utmost pleasure of welcoming Catherine Bruton, author of We Can Be Heroes and Pop!, to ThirstforFiction to answer some of the questions we had for her after reading her two (fantastic) novels.
ThirstforFiction: What is Pop! about?
Catherine Bruton: 'Pop!' is about three kids pursuing the talent show dream in the recession hit North West. Elfie, Jimmy and Agnes decide to enter 'Pop to the Top' (my fictionalised – and barely disguised! – version of 'The X Factor') because it's the only solution they can think of to the rubbish stuff that's going on in their lives. A strike is dividing the community; Jimmy's dad is obsessed with turning him into an Olympic swimmer; Agnes is being targeted because her dad crossed the picket line; Elfie's mum has run out on the family (again); her dad is on the verge of bankruptcy – which would mean losing custody of Elfie and her baby brother too.
Winning the prize money is Elfie's last chance to save her family. Jimmy goes along with the crazy plan because he pretty much does whatever Elfie tells him to do –even if it does mean posing as the teen father of her lovechild and pretending to be in love triangle with Agnes and Elfie – which he sort of is anyway (not that he is EVER going to admit that to anyone – especially not Elfie!). And Agnes – well, if she plays her cards right, Elfie might just make her into a star!
Only of course nothing is as simple as it seems and Elfie is going to have to tell some really, really WHOPPING lies and exploit every single Rule of Talent TV if they are going to make it to the final – without causing World War 3!
T4F: When did you first become interested in the idea of TV talent shows and how did that fascination become a novel?
Catherine: I think I'm a bit of a Talent TV junkie. Oh dear, I feel I want to qualify that straight away by saying, 'But I did get a first class degree from Oxford, you know!' But the truth is that I've always been a sucker for fluffy TV – Glee, Gossip Girl, Made in Chelsea – I even love High School Musical and Hannah Montana (should I be admitting this?)
Talent TV is my guilty pleasure. Only I'm not sure what the attraction is. I mean, I get ridiculously emotional but also really irritated when I watch shows like 'X Factor' and 'BGT' and 'The Voice'. I'm a total sucker for a fairytale ending and I blub like a baby when really unlikely contestants emerge like butterflies from the cocoon, but I hate the mockery of the weaker contestants and I find the clichés and the scripted-ness and the manipulation of the audience so annoying.
But as a storyteller you've got to admire the artistry. Think of those perfect narrative arcs they script for the characters (sorry contestants); the heart-rending back stories; the will- they won't they moments; the rollercoaster rides; the ugly duckling makeovers; the nail-biting cliffhangers; and the edge-of-you-seat grand finales. It's fictional gold dust!
Only I think most kids are totally savvy to all that. They might enjoy the rollercoaster ride but there's no way they don't see through the fakery and the clichés. And so I wanted to create a character who set out to manipulate the whole genre. Who thought she'd sussed out the 'Rules of Talent TV' – found the magic formula to make it to the finals and play the Talent TV producers at their own game. Which she kind of does!
The fact is that Talent TV shows are such a massive part of our cultural landscape. And I knew I wanted to write about recession and the impact of that on children and in my mind it's all linked together. I think that financial crisis is a massive part of why the children (and adults) of the noughties and teenies are so attracted to Talent TV. Growing up under the shadow of double dip recession, public sector strikes and the ongoing terror threat, no wonder they are drawn to the rag-to-riches tales scripted by the editors of Saturday night TV. In bleak times, Talent TV offers the fairy-tale endings we all crave – with Simon Cowell as the ultimate Fairy God-mother (or perhaps David Walliams will fight him for that particular tiara)!
Only of course, in the end, as my characters find out, there are no such things as fairy tale endings, and when the dust settles, all the same problems are still there waiting for you.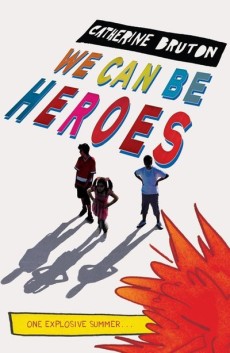 Oh, and of course, writing a novel about Talent TV was the perfect excuse to justify my BGT/X Factor/Strictly obsession – all in the name of research, you understand!

T4F: You've said that several of the characters in Pop! are based on students and friends. Why do you choose to base characters of people you know? How do they feel about it?!
Catherine: Oh dear – it's not as bad as it sounds! Most of my characters are actually a pick and mix of various people I know but no one is directly based on any one particular person. So my main character Elfie was partly inspired by the 'mad, bad and dangerous to know' girl who lived-next-door when I was a kid. We used to hang out in the fields behind our house and all the crazy plans Elfie comes up with are things that we actually got up to – frog hospitals and granny exorcisms and fish finger ear piercing (actually, that was my sister!)
So Elfie is also partly based on my big sis who also used to drag me along with her crazy schemes (never pierce an ear with a fish-finger or attempt to tattoo with a rusty nail is all I can say!) Half of the stuff we got up to my mum still doesn't know about – until the book comes out that is!
Elfie is also one of the nicknames we have for my crazy pickle of a daughter, Elsie, and she certainly imbues my main character with some of her bonkers-ness – not to mention her fashion sense! But the character of Elfie isn't any one of those people – she just borrows bits from each of them but ends up as a person in her own right. I definitely end up thinking of my characters as real people, if that doesn't sound stupid!
My family are kind of used to me including silly stuff from our childhood in my books – and borrowing their clothes or mannerisms to dress my characters in. And it is definitely true that my pupils – past and present – inspire my characters because kids are so completely fabulous and come up with far cooler stuff than any writer could ever imagine. In fact my students are always nagging me to put them in books. Sometimes I borrow names but often I just borrow physical details, or the way they speak but sometimes I'll think to myself, 'What would so and so think about this?' and it helps me keep characters real.
So Jimmy was inspired by my little big bro (5 years younger than me and about 3 feet taller!) but also by some of the boys I've taught for GCSE over the years. He's at that age when he's suddenly really tall and self conscious and shy and doesn't quite know what to do with himself. But he is terribly, terribly sweet and kind but can't look girls in the eye and allows himself to be totally bossed around by Elfie (I think my brother will relate to that!).
Agnes is interesting because I couldn't 'find' her. Whereas with Jimmy and Elfie I had such a strong sense of who they were from the start, I couldn't quite pin Agnes down in my mind. Then this year I got a new GCSE class and in it are several lovely girls – who are shy but wonderful and have no idea how talented they are – and I knew right away I had found Agnes – my star in the making! I think they are a bit embarrassed about it but quietly pleased! At least I hope so because I only ever turn nice people into characters!
Oh no, that's not strictly true. I have to admit that the 'villain' in my last book 'We Can be Heroes' was based on somebody who was horrid to somebody I love. I'm a very non-confrontational person in life so I got my literary revenge instead – even though the person concerned will probably never read the book! But I know!

T4F: Pop! is your second novel. Did you feel it was easier to write having already written one book to publication? Were there any harder parts to writing Pop?
Catherine: 'Pop!' was the hardest novel I have ever written (and I've actually written three: I had an adult novel published donkeys' years ago). I don't think I'm exaggerating when I say it nearly flipping killed me – I nearly gave up in despair many, many times and I swear that I will never EVER attempt a three part narrative again.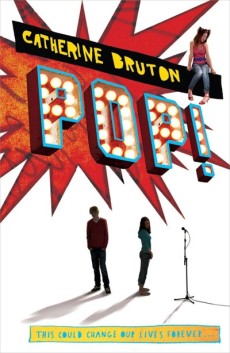 I'm not actually sure what possessed me to do so in the first place because it quickly became clear that I am nowhere near clever enough to do it! Fortunately I have a very clever and very patient editor who helped me piece the jigsaw together but it did get ripped up and put back together again lots of times. I had such a strong sense of the story but the mechanics of plotting it were really, really hard!
Actually, I should provide hope for any aspiring writers out there because it was so damned hard but I got there in the end!

T4F: You have two children. Has having children influenced your writing in any way?
Catherine: Definitely and in loads of ways. I think they bring the love and laughter to my writing – their energy and bonkers-conkers approach to life imbues every single child character I write.
I believe I'm a much more compassionate writer for being a mum. I end up loving all my characters, even the most apparently irredeemable. And all the parents too – I'm far less judgemental since becoming one myself – and I think that has made me a more forgiving writer.
T4F: As an English teacher, is there anything "special" you try and do with your novels?
Catherine: Ooh, that's an interesting question! I've had to think about this one. I don't think I try to stuff my writing full of technical stuff that you have to identify for GCSE exams – Zeugma and Anadiplosis (my favourite word ever cos I think it sounds like a dinosaur) or transferred epithets or whatever. And although I take inspiration from English teachery things like Elizabeth Gaskell's 'North and South' (via Richard Armitage – him from 'Spooks' – swoon!) I also draw on lots of contemporary things like 'Glee' (my final scene is a rip off of the Season 1 Finale) and 'Shameless' and 'Desperate Scousewives'!
But I think for me the most magical teaching experiences have been times when I've taught things that have challenged students, made them think, confronted prejudices, widened their sympathies, expanded their horizons, possibly even shaped their souls – whilst also being un-put-down-able reading experiences. So that's always been the kind of book I want to write.
But I also know that young readers are some of the most discerning AND demanding! So I wanted to write about important contemporary issues but I knew I needed to do so in a way that made readers desperate to find out what happens next – and I loved the challenge of that.
I definitely always had my students in mind when I wrote and I hope they will laugh and giggle their way through 'Pop!' (especially when they spot the Deputy Head making a cameo!) but maybe it will make them think too.
T4F: Typically, how do you write? Do you plan your novels? Do you lock yourself in a room until it's finished and then start getting critiques or do you take critiques throughout the whole creative process?
Catherine: My life is a bit mad because I teach part time and I have small children so writing gets squished in at the margins of my life which means I have to be very disciplined. If I have a few hours to write then there's no point waiting for the muse to strike – I have to get on with it.
Since writing Pop! I've got better at planning – I think I learned my lesson the hard way! But characters don't always conform to pre-planned plots. They sometimes go off and do their own thing – pesky creatures!
I rewrite constantly. My first drafts are always completely and utterly awful and it will take dozens of rewrites for me to get things how I want them. I wish I was able to write flawless first drafts, but, alas, it never happens like that for me!

T4F: When you write, what is your aim?
Catherine: I want to make readers laugh, to make them love my characters and maybe make them think. Yeah – I'd take that!